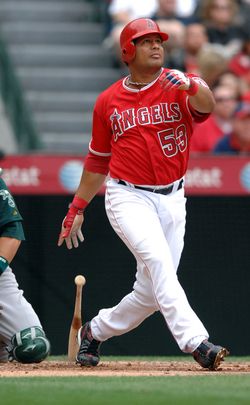 From 1998 through 2009, just nine players in baseball posted an on-base percentage of at least .400 (min. 6,000 PA), and only one did it with more than 100 total steals. That would be Bobby Abreu. From ages 24 through 35 ('98-'09), Abreu hit .301/.406/.497 with 253 homers and 341 steals for the Phillies, Yankees, and Angels. He wasn't quite a five-tool threat because his defense left a lot to be desired, but Abreu was an offensive force for more than a decade.
But in 2010, at age 36, the roof started to cave in. Abreu hit .255/.352/.435 overall, his lowest full season OPS ever. Although he still stole 24 bases, he was caught ten times for a 70.5% success rate, well below his 75.8% success rate from '98-'09. Abreu's first 40 double, 20 homer season since 2004 still resulted in the lowest full season slugging percentage of his career. 
Both the player and club are in a bind in 2011. Abreu's contract contains a $9MM vesting option for 2012 that will kick in with 433 plate appearances next year, a total he's reached every year since 1998. If the option vests, the Angels are on the hook for another year of Abreu's decline phase. If it doesn't, Abreu is a declining 37-year-old free agent that is best suited for designated hitter. Those guys aren't in high demand.
The Halos have the option of platooning Abreu in 2011, which would limit his plate appearances. He hit just .228/.296/.342 against southpaws in 2010, down from .267/.348/.386 in 2009 and .315/.370/.495 in 2008. The team doesn't appear to have an obvious right-handed platoon partner though, unless they try to really force the issue with someone like Brandon Wood or Bobby Wilson.
Abreu has long been a productive player in this league, one that should at least spark some Hall of Fame debate, but his best course of action in 2011 is to play well enough (and often enough) that his option kicks in. It's highly unlikely he'll find that kind of money on the open market after the season.
Photo courtesy of Icon SMI.