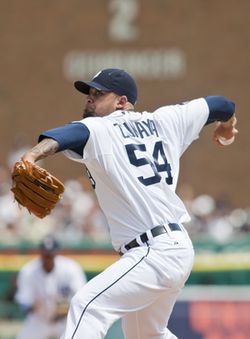 Long before Aroldis Chapman defected from Cuba, Joel Zumaya was the guy breaking all sorts of velocity records. During the 2006 ALDS, MLB Advanced Media's pitch tracking system clocked one of his fastballs at 104.8 mph, heights previously unreached. Zumaya, now 26, burst onto the scene that year with a 1.94 ERA with 10.5 K/9 and 4.5 BB/9 in 83 1/3 innings, holding opponents to a .187/.287/.270 batting line. The Tigers had their closer-in-waiting with Todd Jones nearing the end of his career, but injuries started to strike.
Since the start of the 2007 season, Zumaya has been on the 60-day disabled list five times, at least once per season. He had shoulder surgery to repair an AC joint separation in 2007, an injury he suffered helping his family move items in advance of California wildfires. Two years later he had another surgery on his shoulder, this time to correct a non-union stress fracture. Last year he suffered perhaps the ugliest injury of all, fracturing a bone in his elbow mid-pitch. 
That breakout 2006 season has been followed by four seasons with no more than 38 1/3 innings. Zumaya has been effective when he's been on the mound though, striking out 8.1 batters per nine and pitching to a 3.78 ERA over the last four years. He's not what he was that rookie season, but he's certainly been a quality relief arm, and quality relief arms have been rewarded with handsome multiyear contracts this winter.
Zumaya is now entering his final season of team control. He and the Tigers have already agreed to a $1.4MM salary for 2011, but that's a pittance compared to what he could make in the future with a strong and, most importantly, healthy season. Zumaya has already started throwing off a mound and is on track for Opening Day, but that's just step one of a season-long process.
Photo courtesy of Icon SMI.