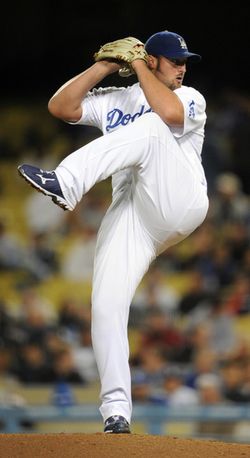 About eighth months ago, Jonathan Broxton of the Dodgers was arguably the most dominant reliever in the game. He started the 2010 season with career numbers that were straight out of a video game: 11.92 K/9, 3.58 BB/9, 45.6% grounders, and a .204/.287/.304 batting line against in 317 innings. The Dodgers had every reason to be confident when they had a lead in the ninth inning.
The 2010 season started and Broxton was performing just like he had during his entire career, if not better. Through his first 33 appearances, he struck out 48 and walked just five in 32 2/3 innings, leading to a 0.48 ERA. But then things started to go bad. Broxton blew a four-run lead against the Yankees on June 27th, throwing a career-high 48 pitches in the inning. He was never the same the rest of the season.
Broxton pitched to a 7.58 ERA the rest of the way, walking nearly as many batters (23) and he struck out (25) in 29 2/3 innings. Batters tagged him to the tune of .325/.437/.479, and he blew five of 11 save opportunities. By the end of the season, Hong-Chih Kuo and Kenley Jansen were getting ninth inning work while Broxton handled middle relief.
Whether it's a coincidence or the sign of something bigger, that game against the Yankees marks a turning point for Broxton. His trademark velocity had been down that month (relatively speaking), so maybe the crack in the dam finally gave way that game. Now that he's closing in on free agency, Broxton needs to show his old form if he wants to land a major pay day after the 2011 season.
Luckily for him, he's still extremely young, not celebrating his 27th birthday until June. New manager Don Mattingly has indicated that Broxton will be his closer to at least start the season, so he's going to have an opportunity to put the struggles behind him and re-establish himself as one of the game's best bullpeners.