"It's a good bet" that A's pitcher Trevor Cahill "will be signed through at least his arbitration years soon," according to Susan Slusser of the San Francisco Chronicle.  What's more, first baseman Daric Barton "is a strong possibility" to be signed through at least his arbitration years as well.  MLBTR's Luke Adams looked at the Cahill possibility last September, so let's focus on Barton.
Barton, 25, hit .273/.393/.405 in 686 plate appearances last year, leading the American League with 110 walks.  The A's also consider Barton's defense and durability to be positives, according to Slusser.  The first baseman did deal with a few injuries in 2009, and also spent a good portion of the season in the minors due to Jason Giambi's presence.  He'll be arbitration eligible for the first time after the 2011 season.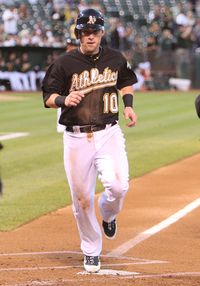 Barton is a very unique first baseman, and new agent Dan Lozano would have a hard time getting him properly compensated through the arbitration system.  Barton's value is tied to his OBP and defense; he only has 26 home runs and 136 RBI in 1,485 career plate appearances.  How unique is it for someone to play 150 games at first base and post an OBP of at least .390 with a SLG under .410, as Barton did last year?  According to the Baseball-Reference play index, the only other player to do it in the last 30 years was Mike Hargrove for the Indians in 1980.
If my theory that a player like Barton would be a bargain in arbitration is correct, the A's should only extend him if they're getting a big discount or control of free agent years.  From Lozano's point of view a great comparable would be Billy Butler, who is a also a little short on power but still signed for $30MM over four years ($19MM for his three arbitration years, $8MM for one free agent season, and a club option for a second).  The A's might argue that Barton better resembles a healthier Nick Johnson, though Johnson's three-year extension came at a much different point in his career.  Both Butler and Johnson, though, have at least flashed 20 home run power in their careers.