C.J. Wilson is not going to sign for Cliff Lee money when he hits free agency this offseason. Nine-figure deals are out of reach to any pitcher who doesn't threaten to win the Cy Young every year, so Wilson can forget about matching the contract his former rotation-mate signed.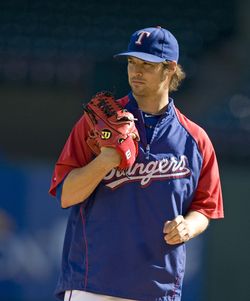 But Wilson is likely due for a raise next year, whether the Rangers give it to him or someone else does. The left-hander will hit free agency for the first time in his career and though the Rangers are open to extending him before the season ends, it's starting to look like Wilson will hit the open market.
In the last year-plus, comparable left-handers including Wandy Rodriguez, Ted Lilly, Jorge de la Rosa and Randy Wolf have signed deals that pay them an average of just over $10MM per free agent season. That appears to be the going rate for those who have proven themselves as number two or three starters.
Wilson had a breakout 2010 season in which he pitched like a top-of-the-rotation starter. He led his team, the eventual AL Champions, in ERA (3.35), ground ball rate (49.2%), starts (33), wins (15), complete games (3) and innings (204) and placed in the top ten in the American League in ERA, wins and opponents' average
Those numbers are impressive, but Wilson also placed among the league leaders in some other categories. He led the league in walks (93) and placed sixth in the league in hit batsmen (10). Opponents hit just .266 against him on balls in play last year, sixth-lowest among AL starters. That figure suggests he could be due to regress in 2011, as does his tough-to-sustain home run to fly ball rate of 5.3%.
The Rangers are taking a risk either way. Either they take it now and invest tens of millions in a pitcher who could regress and has just one year of experience as a starter. Or they postpone the risk until after the season and hope to do what they couldn't do when Lee hit the market: convince the free agent left-hander to choose Texas over his other suitors.
Photo courtesy Icon SMI.