The Mets released lefty Oliver Perez, the team officially announced today.  The move comes three days after the release of second baseman Luis Castillo, as the team's new regime bailed on Omar Minaya's two worst contracts with one year remaining.  The Mets still owe Perez $12MM for 2011.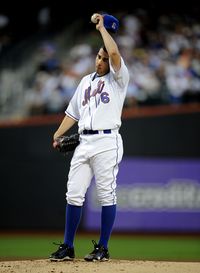 Perez, 29, re-signed with the Mets on a three-year, $36MM deal in February of 2009.  The contract was fairly well-received in the media at the time.  The signing quickly became unpopular, with the southpaw posting the two worst seasons of his career.  The numbers: a 6.81 ERA, 7.9 K/9, 8.0 BB/9, and 1.7 HR/9 over 112 1/3 innings.  New GM Sandy Alderson allowed Perez a chance to make the 2011 club as a reliever, but he allowed 13 hits and nine runs in 9 2/3 spring innings.
The Phillies signed Castillo yesterday and appear to have big league playing time for him.  It'll be a much longer road back for Perez.  The Mets ate $18MM to make the pair go away, minus the Major League minimum if they play in the Majors.  The cuts should be popular with fans, and hopefully the team can generate a few positive storylines heading into the 2011 season.
Brian Costa of the Wall Street Journal first tweeted the news of Perez's release.