The World Champion Giants conclude our Offseason In Review series.
Major League Signings
International Signings
Simon Mercedes, Adalberto Mejia
Notable Minor League Signings
Extensions
Trades and Claims: None
Notable Losses
Summary
Brian Sabean, the longest-tenured GM in the game, bought himself some offseason leeway by winning the World Series.  It's harder to question the guy who put together the team that won it all, but I'll give it a shot.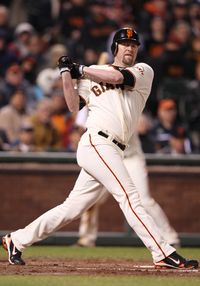 In Sabean's defense, the Dodgers seemingly offered Huff something close to the two-year, $22MM deal he ultimately signed.  That doesn't make it a good signing though.  This was a risky move, with concerns about Huff's defense and uncertainty trying to project his next two seasons.  There's also the presence of top prospect Brandon Belt, who might be able to approximate Huff's offensive production at four percent of his salary.  The Braves took a different approach, installing Freddie Freeman at first base and ignoring the free agent market.
The Dodgers did steal away Uribe, though I don't blame Sabean for not offering that magnitude of a contract.  Sabean had to put someone at shortstop, though, so he signed Tejada for $6.5MM.  I would have estimated a contract about half that size for Tejada.  Pursuing J.J. Hardy would have been preferable, but failing that I can understand adding a stopgap -  just not a $6.5MM one.  Hopefully the Giants will be in the mix for Jose Reyes this summer, as he'd represent a significant upgrade.
It's hard not to like the Burrell signing, as the veteran signed for a million bucks despite being the only free agent left fielder to hit 20 home runs.  This was similar to the Kerry Wood deal, where a player dictated his team by taking a pay cut.  The Sanchez extension, on the other hand, was acceptable but didn't represent a bargain.
Sabean's offseason was very quiet otherwise; I think he was the only GM not to make a trade or claim.  The Giants did have quite a few arbitration cases, and I can't fault them for tendering contracts to everyone but Ray.  Cody Ross was a borderline case, but the decision had to be made before Burrell was signed or Mark DeRosa's health was fully assessed.  If DeRosa bounces back to his 2007-08 levels for a few months, Sabean might be able to shed his salary midseason and gain extra payroll flexibility.
The Giants' offense should be a little better this year, and they've got the same excellent rotation.  That doesn't necessarily put them in the playoffs again, so hopefully Sabean will be active this summer in seeking an upgrade at shortstop.
Photo courtesy of Icon SMI.