C.J. Wilson, Mark Buehrle and (possibly) C.C. Sabathia aren't the only left-handed starters pitching for contracts in 2011. Sure, they're the ones hitting free agency, but this season is an important one for the bank accounts of David Price and Clayton Kershaw, too.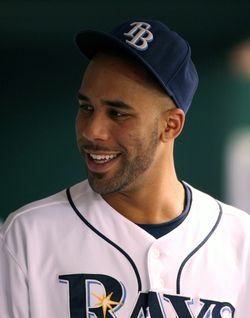 No, they aren't eligible for free agency, but they are nearing salary arbitration, their first chance for a major payday since signing seven-figure bonuses as first round picks. Various agents and arbitration experts around MLB say they expect the southpaws to redefine the market for first-time arbitration eligible starters this offseason if they stay healthy and continue pitching well.
To do so, Price and Kershaw will have to pass current record holder Dontrelle Willis and Jered Weaver in the $4.3MM range (though Weaver won't mind, as his salary will skyrocket well into eight-figure territory this offseason). Price (pictured) and Kershaw will need formidable seasons to have superior numbers to the ones Weaver had after 2009 and justify precedent-setting salaries. So far, so good for the southpaws; both are healthy and off to strong starts.
Click here to view relevant career stats for Weaver, Price and Kershaw.
At this point, Weaver has a distinct edge in stats such as starts, wins, innings and quality starts (vital stats for starters in the arbitration process). Kershaw will be able to catch L.A.'s other ace in every one of those categories except for wins if he continues his current pace. Since Kershaw's ERA is half a run better and he allows fewer hits while striking out more batters, his representatives at Hendricks Sports should be able to argue convincingly that he has earned a salary north of $4.3MM.
Price, on the other hand, won't catch Weaver or match Kershaw in starts, innings or quality starts. Like Kershaw, his ERA is considerably better than Weaver's and unlike Kershaw he has award recognition (a second place finish in the 2010 Cy Young voting) and postseason success (3.93 ERA, 10.8 K/9, 2.0 BB/9 in the playoffs) on his side.
Most importantly, Price is working from a $2MM base salary because of the deal he and agent Bo McKinnis negotiated when Price was the top pick in the nation four years ago. The 25-year-old's high base salary will provide him with leverage and figures to boost his salary into record territory, well beyond Weaver.
Kershaw and Price should both top Weaver and Willis and establish a new market for elite first-time arbitration eligible pitchers, but how high can they go? Tim Lincecum filed for $13MM as a first-time arbitration eligible pitcher before agreeing to a two-year deal last offseason. He had two Cy Young awards at the time, which makes him a poor point of reference for just about any pitcher. Kershaw and Price can forget about asking for $13MM for now.
Jonathan Papelbon technically holds the record for first time arbitration eligible pitchers with a $6.25MM salary. However, arbitrators treat starters and relievers differently, so Papelbon is hardly a better point of reference than Lincecum. Barring the unexpected, Price and Kershaw will not be able to match Papelbon's $6.25MM salary, according to every agent and arbitration analyst surveyed.
"If you are Kershaw's agent, you not only have to beat Weaver – which I think he can – but you somehow have to justify that Kershaw is almost $2MM better than Weaver," one said. "That can't happen without a significant market shift."
Not one person surveyed by MLBTR suggested either Price or Kershaw is headed for $6.25MM in 2012, a strong indication that they' aren't set to shatter Weaver's first year mark by $2MM or more.
The early consensus is that Kershaw's salary figures to sit in the $5-5.5MM range, while Price's salary will be near the $6MM mark. Either pitcher could sign an extension, instead of following Weaver's example and going one year at a time (click here for Tim Dierkes' take on a possible extension for Price).
If they do go year to year, both Price and Kershaw are on track to shoot past Weaver and into the $5-6MM range. It would establish a new record for first-time arbitration eligible pitchers, re-set the market for baseball's next generation of aces and prime Kershaw and Price for even bigger paydays in the future.
Photo courtesy Icon SMI.