Today, Brandon Phillips may be the Reds' most recognizable player. Five years ago? He was anything but. When then-GM Wayne Krivsky acquired Phillips from the Indians on this date in 2006, he was a 24-year-old unknown who had yet to convert his intriguing potential into Major League production.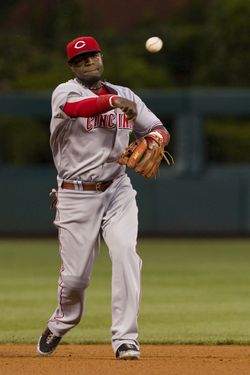 He'd had his chances. In a season's worth of plate appearances over the the course of four years in Cleveland, Phillips had just a .556 OPS. The minor league numbers which had once helped solidify his place among the game's best prospects had fallen off; in his third season at Triple-A, Phillips' average, on-base percentage and slugging percentage all dropped.
But Krivsky decided to give Phillips a chance and the Indians, unable to find room on their roster for the out-of-options infielder, had had enough. Three and a half seasons after acquiring him in the Bartolo Colon trade, then-GM Mark Shapiro sent Phillips to Ohio's other team for a player to be named later.
The Indians ultimately acquired reliever Jeff Stevens in the deal and would eventually send the right-hander to the Cubs in a trade for Mark DeRosa. The Indians later acquired current closer Chris Perez in exchange for DeRosa, so, in a roundabout way, they have something to show for Phillips.
It doesn't compare to what the Reds got. In the five seasons since the trade, Phillips has hit .275/.326/.447, averaging 21 homers, 24 steals and 151 games per season, enough for 16.8 wins above replacement (42nd among MLB position players for that period). He has won two Gold Gloves (deservingly, according to UZR) and has a 30-30 season and two other 20-20 seasons to his name. 
Phillips, the longest-tenured position player on the Reds, outlasted Krivsky, who was fired in 2008. But the former GM deserves recognition for a deal that helped the Reds return to the top of the NL Central standings.
Photo courtesy Icon SMI.