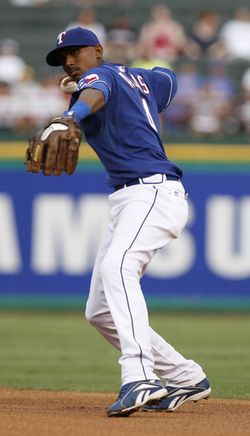 The "player to be named later" is one of baseball's many transactions  quirks. They must be named within six months of the trade, but are often agreed upon by the two teams long before that. Sometimes the November 40-man roster freeze gets in the way, sometimes it's because a player just signed his first professional contract and isn't eligible to be traded yet (a player can not officially be traded until a year after he signs his first contract). Sometimes it's just a placeholder, a piece of the puzzle the two clubs will figure out later.
Currently part of the Royals organization, Joaquin Arias knows what being a PTBNL is like. The Yankees signed him out of the Dominican Republic as a 16-year-old back in 2001, giving him a $300K signing bonus. They then watched him hit a respectable .300/.338/.394 with 12 walks and just 16 strikeouts in 218 plate appearances with their rookie level Gulf Coast League affiliate the following year. He impressed the Yankees enough that they bumped him up to their Low-A affiliate in 2003, when he was still just 18. Arias hit just .266/.306/.343 in 520 plate appearances that year, but he dazzled scouts with "plus-plus range and speed" to go along with "outstanding bat speed and raw power" according to Baseball America.
Unfortunately for Arias, he would never advance further in the Yankees' system. Seven years ago today, the Rangers officially acquired him from New York as the player to be named in the Alex Rodriguez trade. Texas chose Arias from a pool of five prospects that included Robinson Cano and current Astros' reliever Jose Valdez. At the time, Arias was ranked as the fourth best prospect in the Yankees' system by Baseball America while Cano ranked sixth and Valdez placed 21st.
Arias climbed the minor league ladder steadily after the trade, making his Major League debut in 2006. He bounced back and forth between Triple-A and the minors for the next few seasons, not sticking in the big leagues for good until he was out-of-options in 2010. Overall, he hit just .286/.322/.279 in 242 career plate appearances for the Rangers before being traded to the Mets for Jeff Francoeur last summer. Although his career has been unremarkable thus far, Arias will always be able to say that he was traded for one of the greatest players in baseball history, even if he had to wait a few weeks to be included.
Photo courtesy of Icon SMI.