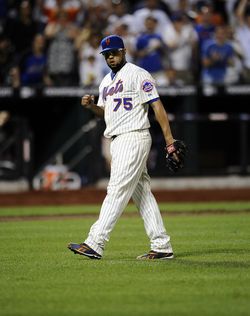 The season is but a few weeks old,and we've already seen a fair amount of upheaval at the closer's role. That's not unexpected, of course; each year seems to bring a slew of injuries and demotion-prompting ineffectiveness among the league's closers. With such a high turnover rate, many teams understandably prefer to turn over closing duties to cheaper guys – it's just better business. Still, the lure of relying on a top-tier, tested closer can be tough to resist for a contending team.
With the Mets in the early stages of what many project to be a rebuilding mode, Francisco Rodriguez makes for an intriguing potential trade candidate. He could probably be acquired without giving up much in return, but between his pricey 2012 option and limited (10 teams) no-trade clause, it won't be easy. The $17.5MM option for '12 will vest with 55 games finished (and if K-Rod's deemed healthy). That's an unsightly price tag for a closer and would be especially garish if the Mets aren't contending. If the option doesn't vest, K-Rod will get a $3.5MM buyout.
We've heard that the Mets won't allow K-Rod to finish that many games, but in his first six seasons as a full-time closer from 2005-10, K-Rod averaged 59 games finished. With eight appearances and six games finished in the Mets' first 22 tilts this season, he's on pace for 59 appearances and 44 games finished. Those figures, however, could be a bit skewed by the Mets' slow start.
As unattractive as that vesting option is for the Mets, it's equally, if not more, unattractive to a potential trade partner. Typically, a contending team that's acquiring a pending-free-agent closer would like to use the pitcher as often as necessary – and not have to worry about financial ramifications. As well, Rodgriguez's season ended prematurely in 2010 after injuring his hand in a clubhouse altercation with his father-in-law. That won't reflect well under "makeup" on those scouting reports.
Between the specter of the vesting option and Rodriguez's limited no-trade clause, it figures to severely limit his trade market. A savvy buyer, though, could look into acquiring him as a setup man/secondary closer so as to circumvent the games finished.
Whether the Mets can deal K-Rod remains to be seen, but his games finished – and option – bears watching regardless. He won't be the most sought-after closer out there, as that distinction belongs to Heath Bell. The market for Bell could be fierce, though, and he won't come cheaply, at least not for a while. But a reliever like K-Rod – a 2.49 career ERA and 272 saves – should garner some interest.
Photo courtesy of Icon SMI.