The Giants avoided a historic arbitration case with ace Tim Lincecum last year, agreeing to a two-year, $23MM deal.  That contract just delayed the inevitable, as Lincecum will still be arbitration eligible after the 2011 season and the Beverly Hills Sports Council client is in line for an unprecedented payday.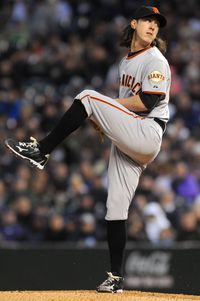 No Comparables
When you talk to agents about Lincecum's upcoming arbitration case, you hear phrases like "uncharted waters" and "lands unknown."  There is no arbitration comparable; the 26-year-old already has two Cy Young awards.  Said one agent, "They will use all of the free agent numbers here, including C.C. Sabathia (even if he opts out), Cliff Lee, Roy Halladay and everyone else with an impressive, cool silver and black plaque hanging in their basement.  This negotiation will transcend arbitration and will be a mini free agency discussion."
The Raise Argument
All the agents I spoke to pegged Lincecum's 2012 salary in the $19-22MM range assuming he has a "normal" year.  That's normal by Lincecum standards – something like last year's 3.43 ERA.  That kind of season easily lends itself to an argument that Lincecum deserves much better than the $5.9MM raise Carlos Zambrano received in 2007, based on both platform year and career bulk.  Lincecum is coming from a $14MM salary in 2011, so his agent Rick Thurman could demand a $7MM+ raise.
Assuming cases for pitchers such as Jered Weaver, John Danks, and Matt Garza are settled first, they could have a bearing on Lincecum.  Most agents put Weaver in the $14-15MM range, but if he finds his way to $16-17MM, Lincecum's agent could argue for a bigger raise.
Another Cy Young?
Only eight pitchers have won three or more Cy Young awards, and none of them accomplished the feat by their fifth season.  If Lincecum wins the award this year, he has a good case to be the highest-paid pitcher of all time.  That means a salary beyond Lee's $24MM, perhaps well beyond.  If Lee is worthy of five years at $24MM per, how much extra would it be worth to reduce the risk to a one-year deal?  If Lincecum were a free agent after '11, coming off a Cy Young and limiting himself to a one-year deal, something like $28MM would be within reach.  Multiple agents believe another Cy Young would propel Lincecum to $25MM or more for 2012.
Thinking About 2013
Lincecum is a Super Two player, meaning he's eligible for arbitration four times.  If he lands a $25MM salary for 2012, the stakes would get even higher for '13.  At that point even a .500 year in '12 would almost have to result in a $5MM raise, putting Lincecum at $30MM and putting the Giants in a tough spot. 
Long-Term Possibilities
Lincecum might have been earning close to $20MM this year had the Giants not signed him to a two-year deal in February of 2010.  The team figures to be motivated to attempt another multiyear deal.  Lincecum, having already earned more than most pitchers who sign extensions during their arbitration years, might not be looking for the maximum number of years on an extension now.  How about four years $90MM – $18MM in '12, $22MM in '13, and $25MM in '14 and '15?  That'd allow Lincecum to reach free agency at age 31 and go for his first $100MM deal.
If he did try to maximize the term on a new contract, Lincecum could look for eight years.  No matter how you slice it, an eight-year deal would exceed Sabathia's $161MM and be the largest contract ever for a pitcher.
Conclusion
The 2011-12 offseason is packed with fascinating storylines, led by possible free agency for Albert Pujols, Prince Fielder, Jose Reyes, and Sabathia.  But we may still have plenty to talk about in January and February, with all eyes on Lincecum's contract situation.
Photo courtesy of Icon SMI.