After being shut out by Tom Gorzelanny last night, the Giants rank second to last in the NL with 3.54 runs scored per game.  "We're awful right now," manager Bruce Bochy told reporters last night.  Pablo Sandoval, Andres Torres, and Mark DeRosa are currently on the disabled list.  Aubrey Huff, Miguel Tejada, and Cody Ross have been terrible so far, while Buster Posey has failed to meet lofty expectations in the early going.
Chatter for the Giants to recall Brandon Belt is increasing, as he's killed the ball in nine games for the Fresno Grizzlies.  CBS' Danny Knobler wondered this morning whether Belt can be the Posey of 2011, providing the team's offense with a jolt.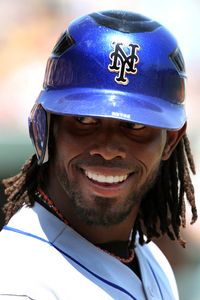 ESPN's Buster Olney speculated on another possibility this morning in his blog, a potential acquisition Giants fans inquire about every week in my chats.  Mets shortstop Jose Reyes is off to a .309/.348/.439 start, similar to his career averages and a big upgrade over Tejada offensively and defensively.  The Giants would have to accommodate Reyes' $11MM salary, $3.57MM of which will still be owed to him if he's acquired on July 31st.  Also, the Giants "would have to give up a really, really good young player — the Mets presumably would ask for a top-of-the-line young pitcher," in Olney's opinion.  Interesting side note: Olney guesses that Reyes "could be convinced to stay by a solid multi-year offer," rather than test free agency.    
One factor determining the Mets' asking price for Reyes will be how many other teams are seriously in the mix for him.  The Twins could make an offer, but only if they pull themselves up out of the AL Central gutter.  The Athletics could use a boost at shortstop.  The Brewers are a nice match, though their farm system is depleted.
The cost of renting a star position player has varied in recent years.  A few examples:
In July of 2009, the Cardinals acquired Matt Holliday and $1.5MM from the Athletics for Brett Wallace, Clayton Mortensen, and Shane Peterson.  Prior to the '09 season, ESPN's Keith Law ranked Wallace 19th among all prospects, while Baseball Prospectus' Kevin Goldstein had him 37th.
In July of 2008, the Angels acquired Mark Teixeira from the Braves for Casey Kotchman and Stephen Marek.  Marek wasn't a top 100 prospect, but he ranked sixth among Angels prospects before that season according to Baseball America.  BA ranked the Halos' farm system tenth in baseball.  Kotchman was 25 at the time, coming off a strong '07 season.  He was under team control through 2011 and owned a career line of .274/.337/.426.  Prior to his time in the Majors, BA had ranked Kotchman among their top 22 prospects four separate times.
These aren't great comparables, since Wallace was a top position player prospect and Kotchman was a decently-regarded first baseman headed for his second arbitration year.  Technically the Giants have a top position player prospect in Belt, who is universally considered among the top 25 prospects in the game.  I can't picture the Giants considering trading Belt's career for a couple months of Reyes, however.
If the Mets do focus on pitching, as Olney suggests, they'd have to ask for Zack Wheeler.  The righty was drafted sixth overall in '09 and is one of the 55 best prospects in the game on all lists. 
At the big league level, the Giants have two established starters the Mets could try to acquire.  One is Jonathan Sanchez, a solid lefty with a walk problem.  He's under team control through 2012; how much value would his '12 season at a salary of $8MM or so be of to the Mets?  Perhaps GM Sandy Alderson could flip Sanchez for longer-term players.  The Giants also have southpaw Madison Bumgarner, who is more valuable than Belt and controlled through 2016.  Like Belt, Bumgarner is way too much for Reyes.
The Giants do have the pieces to acquire Reyes, depending on how far they are willing to go.  I don't think it would take much more than Wheeler, if the Giants make that sacrifice.  Using Wheeler to get Reyes would at least allow the Giants to keep their big league rotation intact.  Building a deal around Sanchez would be easier to stomach long-term, but would leave a pretty big hole in the team's rotation.  And since Sanchez is only controlled through '12, the Giants might have to further dip into their stash of prospects to appease the Mets.  Though the Giants' farm system is considered among the bottom ten in the game, they do have interesting prospects beyond Belt and Wheeler.
Photo courtesy of Icon SMI.