Inevitably, some teams will be interested in third base help this summer. The Giants, Cardinals and Marlins have question marks at the hot corner now and other teams will presumably be looking for help at third this June, July and August. It's just a question of which teams are interested and which players are available.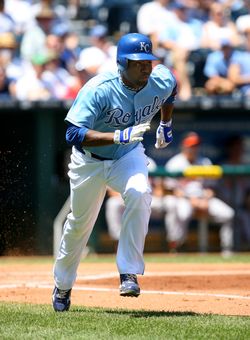 As executives look around the league for alternatives to Michael Young ($45MM remaining on his contract) and Chone Figgins ($15.5MM remaining on his contract), their eyes may settle on a player who has a .305/.381/.504 line since the beginning of the 2010 season and earns just $1MM in 2011: Wilson Betemit of the Kansas City Royals.
A former top prospect turned journeyman, the 29-year-old Betemit is already playing for his fifth MLB team. He hit .297/.378/.511 with 13 homers in 315 plate appearances last year and has followed that up with a .333/.391/.480 showing so far in 2011. Betemit's numbers are flashy if not sustainable (.361 BABIP in '10, .429 BABIP in '11) and the available alternatives don't figure to be overwhelming.
Of course Royals GM Dayton Moore would have to have interest in trading Betemit for anything to happen. Now 15-13, the Royals are in second place in the AL Central behind only the surprising Cleveland Indians. If they continue winning more games than they lose, the Royals may not be interested in selling at all.
But if top third base prospect Mike Moustakas picks up the pace in Triple-A (his OPS now sits at .697) the Royals could decide to make Betemit available and, after they make a trade, promote Moustakas. Betemit is a free agent after 2011 and, unlike Moustakas, he isn't a long-term solution for K.C. Perhaps the Royals could flip him for a player who will contribute to their next great team.
Betemit's hot hitting, salary and versatility (he has MLB experience at short, first, second, left and right) suggest other teams are likely to call Moore later this summer. The Royals could stay hot, or Moustakas could stay cold, but it won't surprise many people if Betemit becomes trade bait within a few months.
Photo courtesy Icon SMI.