Mets owner Fred Wilpon offered some not-so-constructive criticism for his star shortstop, his highest-paid position player and his franchise third baseman in Jeffrey Toobin's recent New Yorker article. Soon after the Mets comment publicly on what Wilpon (pictured) said about Jose Reyes, Carlos Beltran and David Wright, the reaction will subside and the focus will return to the field. But before long the 22-24 Mets may have to consider trading players, including Reyes, Beltran and Wright. Here's what – if anything – Wilpon's comments mean for the trio of Mets stars going forward.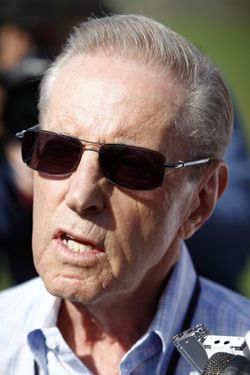 Jose Reyes
"He thinks he's going to get Carl Crawford money. He's had everything wrong with him. He won't get it." – Wilpon.
Wilpon's comments suggest the Mets are shying away from Reyes' apparent asking price of $142MM. The Mets owner sounds hesitant about paying top dollar for Reyes when the shortstop hits free agency after the season. That would eliminate one bidder for Reyes' services after the season, but won't necessarily prevent the 27-year-old from floating an exorbitant price tag.
As for Reyes' trade value, rival executives tell ESPN.com's Buster Olney that Wilpon's comments reduced the Mets' leverage (Twitter links). GM Sandy Alderson faces the perception held by some general managers that the Mets must trade him because they won't be signing him after the season.
Carlos Beltran
"We had some schmuck in New York [Wilpon himself] who paid him based on that one [2004 postseason] series. He's sixty-five to seventy per cent of what he was." - Wilpon.
Beltran had trade value before the article came out and Wilpon's comments haven't changed that. Speculation has already begun regarding possible suitors for the outfielder.
Agent Scott Boras is well aware that Beltran is having a resurgent season and that figures to boost his asking price in free agency after the season. Wilpon's comments about Beltran's current contract won't prevent Boras from obtaining a shiny new deal for his client. But at age 34, Beltran is almost certainly not going to sign another $119MM deal, even if he matches his historic 2004 postseason performance.
David Wright
"A really good kid. A very good player. Not a superstar." - Wilpon.
Alderson knows full well that Wright has had some superstar caliber seasons, and so do the rival GMs who might try to trade for him. If anything is limiting Wright's trade value, it's his pedestrian .226/.337/.404 line and the lower back stress fracture that has him on the disabled list.
Wright's free agency is a long way off, as he's under team control through 2013. He said this spring that he "can't imagine ever asking out" of New York and stated today that Wilpon is a "good man." Could the owner's comments change Wright's stance on sticking it out with the Mets? It's certainly possible, but we can't assume that will happen.
Photo courtesy Icon SMI.