The teams in search of catching reinforcements outnumber the teams with catching to spare, so the few clubs with catching depth will be in an enviable position this summer. They can hold onto their backstops while their rivals trot out replacement level players or trade a catcher and obtain a player who can help them in another area.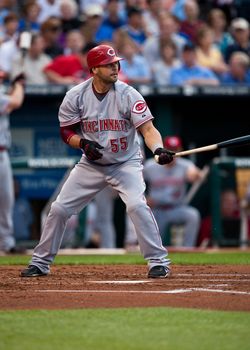 Walt Jocketty will face that decision this summer, since other general managers surely realize the Reds have more quality catching than most clubs. There's starter Ryan Hanigan, who signed a three-year extension over the winter. There's top prospect Devin Mesoraco, who has a .935 OPS in Triple-A. And there's Ramon Hernandez, a veteran backstop enjoying a career year at 35.
After hitting another home run yesterday (#8), Hernandez has a career-best .316 average, a career-best .379 on-base percentage and a career-best .526 slugging percentage. Hernandez's numbers are noteworthy from a personal standpoint, and they're also impressive in the context of the league. Among MLB catchers with 100 plate appearances or more, Hernandez is third in average, fifth in on-base percentage and second in slugging.
But plenty of bats are available, so Hernandez stands out because of the position he plays. Defensively speaking, he is passable if not spectacular; he has thrown out 35% of would-be base stealers this year and appeared briefly at first base.
The latest Elias rankings project Hernandez as a Type A free agent thanks to his current numbers combined with the .297/.364/.428 line he posted in 2010. As a result, the Reds could end up with two top picks if the catcher signs elsewhere after the season, when his $3MM contract expires and he hits free agency (though they may be better off if he drops into Type B territory). 
There's no guarantee that Jocketty will seriously consider trade proposals for Hernandez, but the Giants have already discussed him and there are are lots of reason to believe the catcher will draw more interest this summer. He earns just $3MM and could net his club draft picks next June. Plus, the Reds have enough depth behind the plate to consider parting with Hernandez, despite his career-best numbers. It's hard to imagine that the 35-year-old's trade value will ever be higher given his performance and the league-wide shortage of catching.
Photo courtesy Icon SMI.