Nearly a month after Buster Posey last suited up for them, the Giants are still searching for catching depth. They signed Max Ramirez today, but he figures to provide organizational depth at Triple-A, not an immediate impact in San Francisco.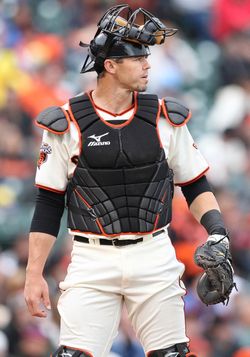 Eli Whiteside (pictured) continues playing regularly for the Giants, though his offense remains inadequate and the Giants continue seeking reinforcements. A look at backups around the league provides insight into why Whiteside continues playing so often despite his struggles throwing out opposing base stealers and paltry .190 average.
Few teams, if any, have the catching depth to withstand the loss of a player like Posey. The league average catcher is hitting .241/.314/.378 so far in 2011 and that slash line includes starters as well as reserves. The job of a catcher includes calling pitches, blocking balls in the dirt and throwing runners out as well as hitting, but for the sake of simplicity we'll focus on offense as we examine the caliber of backup catching in MLB.
Victor Martinez (.324/.373/.498 slash line) and Mike Napoli (.221/.344/.493 before he hit the disabled list) are technically backup catchers, though both DH and play first as well. Ramon Hernandez is one of the few backup catchers who can match Martinez and Napoli in terms of offensive production this year. The 35-year-old has seven homers and a .302/.368/.504 line in 155 plate appearances (Ryan Hanigan now starts for the Reds most days). Royals backup Brayan Pena is another one of the reserves with an acceptable batting line this year: .250/.310/.400 in 113 trips to the plate.
Evaluating backups who have fewer than 100 plate appearances is dangerous, since the sample sizes are generally too small to be reliable. With that in mind, here are some other backstops off to decent starts with the bat: Ramon Castro of the White Sox (.211/.274/.404 slash line in 62 plate appearances), Kyle Phillips of the Padres (.239/.327/.413 in 52 PA), Henry Blanco of the D'Backs (.229/.302/.521 in 53 PA), Ronny Paulino of the Mets (.317/.371/.390 in 89 PA), David Ross of the Braves (.327/.411/.551 in 56 PA), Jose Molina of the Blue Jays (.304/.389/.456 in 91 PA), Brett Hayes of the Marlins (.298/.353/.511 in 52 PA) and the injured Jose Morales of the Rockies (.267/.352/.317 in 71 PA).
Those backups are solid hitters, though certainly not Victor Martinez-like offensive forces, and the're best of the bunch. Most teams are getting far less offensive production from their second catcher and many don't even have one catcher who makes significant contributions at the plate.
There aren't many options for the Giants or any other club that decides to take on the unenviable task of finding catching help this summer. San Francisco is looking to the Rangers for catching depth, since Texas could make a move once Napoli is healthy enough to play. Wilson Ramos' performance has led to plenty of discussion and speculation about Ivan Rodriguez, though he's not the most interesting catcher to watch between now and July 31st.
Ramon Hernandez's .872 OPS will surely appeal to teams and, unlike most clubs, the Reds could conceivably part with a catcher. Hanigan's emergence has continued this year and Devin Mesoraco, who entered the season as Baseball America's #64 prospect, is destroying Triple-A pitching. The former first rounder has a .322/.402/.546 line for Louisville after a similarly impressive showing in 2010. 
Given the Reds' depth – they also have highly-touted prospect Yasmani Grandal in the lower minors – and the shortage of catching in MLB, I won't be surprised if GM Walt Jocketty hears from a number of interested teams this summer. Only so many catchers can hit and Hernandez is a known commodity who's playing well.
Photo courtesy Icon SMI.