Looking for some competition from MLBTR readers amid the insanity of trade deadline week?  Try DraftStreet, where you can put your GM hat on to create a new fantasy team every night and compete against other users for real money.
Right now DraftStreet is offering a freeroll for MLB Trade Rumors readers, meaning you've got a shot at a $400 prize pool for free, with no strings attached.  The top ten finishers will get paid.  The details:
The MLBTR freeroll is for Friday night's games, so you have until then to create your team.  You're given a $100K salary cap, and each player is assigned a price by DraftStreet.  For Friday, Roy Halladay is considered the most valuable player since he starts against the Pirates, but he'll cost you over $18K.  I've gone with a couple of big strikeout pitchers instead in my roster below, Matt Garza and Erik Bedard.  I'm hoping Bedard handles the pressure of a being heavily scouted well.  Your roster covers these positions: C, 1B, 2B, 3B, SS, 3 OF, 2 utility, 2 SP, 1 RP, 1 P and 2 Reserves (14 starters).  You get points based on how your team performs Friday.  For example, you'll get 0.75 points for each strikeout Bedard racks up and 1.5 points if he gets the win.  The teams with the most points get the prize money.  You can apply all kinds of strategy in building your roster – for example, maybe you want to avoid Heath Bell because you think he'll be a setup man by Friday.  Below I've taken a screenshot of a roster in progress: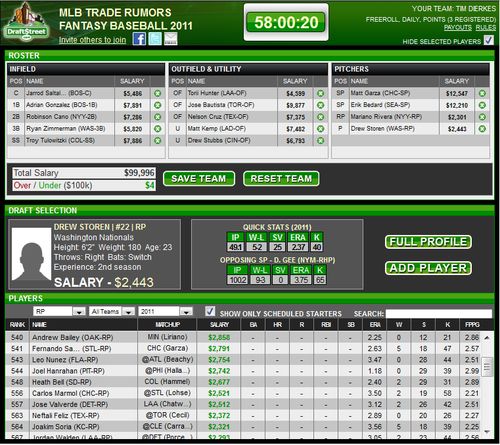 If you're interested, sign up and create a roster prior to Friday's night games (6:05pm central time).  It's quick, easy, fun, and the MLBTR league gives you a free chance to win some of the $400 prize pool.  If you enjoy the competition you can try other leagues for free and earn credits, or deposit real money.