Fred Wilpon has made it clear that he doesn't think Jose Reyes is worth $142MM. But there are 29 other owners in baseball and some of them might be happy to offer Reyes the Carl Crawford-esque contract that Wilpon believes his shortstop wants.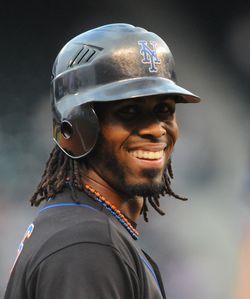 "He's had everything wrong with him," Wilpon told the New Yorker in April. "He won't get it."
Wilpon has a point. Reyes, who is now sidelined with an apparently minor hamstring issue, has had a variety of injuries over the years. He missed time with a thyroid problem last year, tore his hamstring in 2009 and hit the disabled list with ankle, fibula and hamstring problems earlier in his career, in '03-'04. 
Yet Reyes remains on a pace to surpass 150 games played for the fifth time in seven years and his numbers are impressive despite the time he has missed. As the table below shows, Reyes' career numbers are strikingly similar to the ones Crawford had when he hit free agency last offseason and Reyes could have a more impressive walk year in 2011 than the one Crawford had a year ago.
Reyes is just 28, a year younger than Crawford was when he hit free agency. Quality shortstops are harder to find than quality left fielders, which provides Reyes with additional leverage. However, Crawford has more home run power, fewer injury issues and, as a result of his health, higher career totals in most counting stats.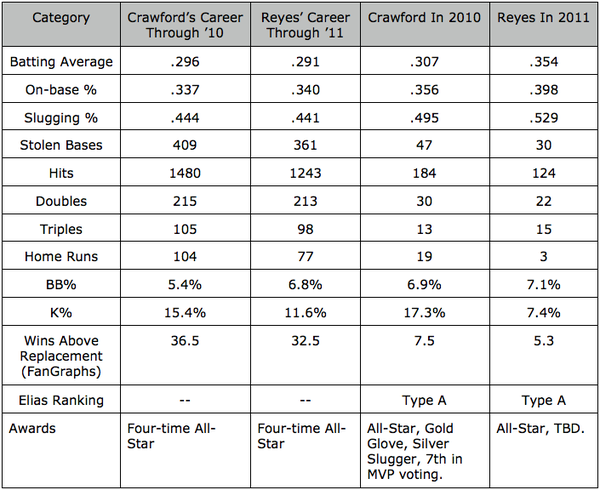 Is $142MM too much of a commitment for a player who has struggled to stay on the field? Possibly, but since Crawford signed for that much, Reyes' representatives at Peter Greenberg Sports will presumably argue that their client deserves a similar or superior deal. After all, Reyes is younger, plays a more challenging position and has similarly impressive statistics. There seems to be a good chance that some team will prove Wilpon wrong this offseason and, ironically, it might even be the Mets.
Photo courtesy Icon SMI.