Back in May, Orioles president of baseball operations Andy MacPhail talked to Amber Theoharis of MASNsports.com about the possibility of locking up center fielder Adam Jones:
"We actually, in Adam's case, had a brief conversation with Casey Close of CAA at the last winter meetings and talked about, you know, we'd be interested in talking about it in the following parameters.  But I think they felt like Adam was still on the ascent and wanted him to play and further establish himself, and they may very well be right."
When the subject of extending Jones comes up again, perhaps in early 2012, plenty will have changed.  Jones is still with CAA, but is represented by Nez Balelo with Casey Close gone.  There's a good chance a new GM will be in town for the Orioles.  And most importantly, Jones will likely have the best offensive season of his career under his belt, as the agency apparently predicted.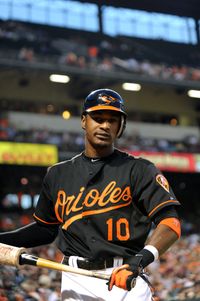 Jones, 26, is hitting .293/.328/.482 with 22 home runs in 537 plate appearances for the Orioles this year.  The batting average would be a career best.  He's already set career highs in home runs and RBIs, while tying his top stolen base mark.  Jones is not a perfect player – he doesn't draw many walks, and based on UZR his defense has been below average over his last 3,400 innings. 
Those two flaws are generally not big factors in arbitration cases, so they're unlikely to affect Jones' earnings in 2012 and '13.  Currently we're estimating a $3.35MM raise for Jones next year, bringing him to $6.6MM.  Barring a performance decline or major injury, Jones projects to top $10MM for '13.
Jones is on track to earn around $17MM for 2012-13, but if he signs an extension in the offseason the team's discount is likely to reduce those salaries significantly.  I could see something like $5MM for '12 and $8MM for '13, and then it's a question of how many free agent years each side is willing to include in a long-term deal.  For Corey Hart, that number was two, at $9.5MM apiece.  Justin Upton signed with much less service time but also gave up two, while Jay Bruce gave up two plus a club option.  None of them are great comparables – Jones is only two years away from free agency and plays center field.
My gut feel is that buying a couple of Jones' free agent years could cost $14MM each, so the team could offer a bit more than $40MM over four years.  The question is how eager Jones is for his first major payday.  Signing through 2015 would still allow him to reach free agency at age 30, at which point a contract approaching $100MM would be possible if is offense stayed the same and a couple of bidders graded his defense with metrics other than UZR.  On the other hand, the ultimate free agent score could be only two years away, especially if he has a monster 2013.
Photo courtesy of Icon SMI.