Kevin Slowey established himself as a decent back-of-the-rotation starter in his first three-plus Major League seasons, but 2011 has been different. The Twins have shown little confidence in Slowey, using him for just 14 2/3 innings so far and considering trades for him in the offseason, in Spring Training and at the trade deadline. The Twins called Slowey back up this week, so now is a good time to examine his chances of getting a contract offer from Minnesota this winter.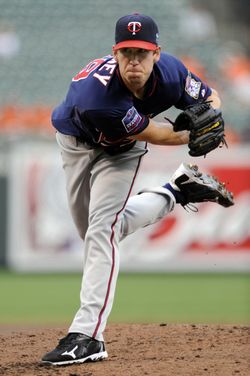 Slowey has spent considerable time on the disabled list this year, first with right shoulder bursitis and later with an abdominal strain. Over the course of two rehab stints and an optional assignment, he has a 3.60 ERA with 6.8 K/9 and 1.1 BB/9 in 50 minor league innings. If those numbers look familiar, it's because Slowey had similar MLB stats from 2007-10. He posted a 4.41 ERA with 6.9 K/9 and 1.5 BB/9 in 473 1/3 innings heading into 2011. 
Those stats and Slowey's career 39-21 record helped the right-hander to a $2.7MM salary this season, his first as an arbitration eligible player. He's eligible for arbitration again this offseason and though he's certainly not going to earn much of a raise, the Twins can't offer less than $2.16MM (80% of Slowey's current salary), according to the Collective Bargaining Agreement. 
That price might seem steep to the Twins, who don't appear to view Slowey as an essential member of their pitching staff. So assuming he doesn't overwhelm the Twins between now and the end of the season, Minnesota's front office will have a few options this offseason. Flip Slowey to another club for a modest return, work out an affordable one-year deal for 2012 before the deadline for teams to tender eligible players contracts, non-tender him or go through the arbitration process like they did last year. Given how Slowey's season has progressed so far, only the last option would be a surprise.
Photo Courtesy Icon SMI.