No one, the Washington Nationals included, expected Adam Dunn to be this unproductive in 2011. The slugger, whose home run hitting ability seemed all but automatic from 2004-10, has an unexpectedly low .161/.294/.296 line with only 11 home runs this year. If the Nationals had anticipated this kind of dropoff for Dunn, they wouldn't have maintained interest in him for as long as they did.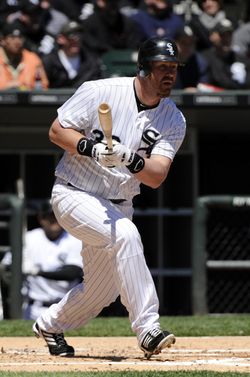 A year ago this time, Washington was still considering the possibility of extending Dunn, who was having a characteristically strong season and the plate on his way to free agency. After posting a .260/.356/.536 line with 38 homers, Dunn signed a four-year, $56MM deal with the White Sox, turning down overtures from rumored suitors such as Detroit and Oakland.
Because Dunn turned down the Nationals' three-year offer to join the White Sox, the Nats obtained two compensatory draft picks in June. Last night they signed both of those picks, right-hander Alex Meyer, selected 23rd overall, and outfielder Brian Goodwin, selected 34th overall, in addition to their other top picks. By reaching deals with the 6'9" Meyer and Goodwin, a former Cape Cod League standout, the Nationals added significant talent to their system and even though the two players cost $5MM in total, Washington is already drawing praise for its aggressive approach.
The Nationals had interest in Dunn on a multiyear deal last year, so they were wrong about him just like the White Sox and many other teams (I was wrong, too). But their decision not to outbid Chicago turned out to be an excellent one. Instead of an expensive, positionless and now unproductive player, they added two potentially impactful prospects for a fraction of the price.
Photo courtesy Icon SMI.