The Braves blew a late-inning lead before losing a painful game to the Phillies tonight, but if Atlanta goes on to win in the playoffs this year, their bullpen will probably be a major reason for their success. The Braves' late inning trio of Eric O'Flaherty, Jonny Venters and Craig Kimbrel is as good as it gets.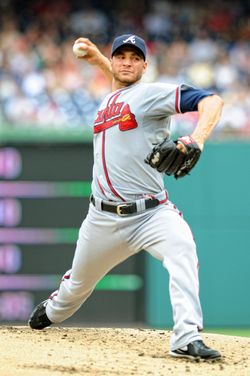 Health permitting, the three relievers figure to return to Atlanta in 2012, but the same can't necessarily be said for the Braves' starting corps. Every one of the eight pitchers who has started a game for the Braves in 2011 is under team control next year and with a trio of MLB-ready arms entering the discussion for big league rotation spots, it won't be surprising if the Braves hear an offer or two for their surplus arms.
Before we get too carried away with assumptions about health, it's important to note that two Braves starters are on the disabled list and another one is dealing with an injury. Kris Medlen hasn't pitched since undergoing Tommy John surgery last August and won't be ready before 2012. Tommy Hanson is also on the disabled list (shoulder) and Jair Jurrjens (knee) is banged up as well.
Despite those injuries, the Braves have a full rotation: Tim Hudson, Derek Lowe, Brandon Beachy (pictured), Mike Minor and Randall Delgado. Top prospects Arodys Vizcaino and Julio Teheran (who will start one of tomorrow's games) also represent viable rotation options for manager Fredi Gonzalez.
All told, the Braves have nine options. Hudson, Lowe, Jurrjens, Hanson, Beachy and Minor have all had extended looks in the rotation this year, Teheran, Delgado and Vizcaino spent most of the 2011 season in the minors and Medlen, a wild card heading into 2012, hasn't pitched at all. 
Not only do the Braves have nine pitchers around in 2012, most of them are under team control in 2013 (Lowe's contract expires after next season and the Braves have a $9MM club option for Hudson in '13). This group isn't going anywhere.
As unusual as it is for a team to have too much pitching, this Braves team may find themselves with extra arms over the winter. Unlike most teams, however, the Braves already have the main components of their roster in place for 2012. They won't have many obvious holes to address over the winter.
Yet the Braves aren't set at every position – shortstop Alex Gonzalez hits free agency and Martin Prado hasn't shown the on-base skills or power you'd expect from a left fielder. If the Braves decide not to retain the slick-fielding Gonzalez and opt to move Prado back into a utility role, they could have holes at shortstop and left field (assuming they don't view Jose Constanza as a permanent solution). 
The Braves are a playoff-caliber team and they seem poised to contend in 2012, but significant needs could emerge within a month or two. Wren avoided last year's free agent frenzy and if he hopes to do the same this offseason without ignoring possible weaknesses, he could make the organization's pitching depth available in trades.
Photo courtesy Icon SMI.