Over 1,500 players were taken in the 2008 MLB draft, and Indiana Wesleyan University third baseman and closer Brandon Beachy was not one of them.  Braves scout Gene Kerns signed him as an undrafted free agent for $20,000, and later remarked, "He's just a young man with a lot of talent that no one discovered."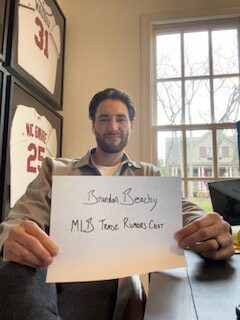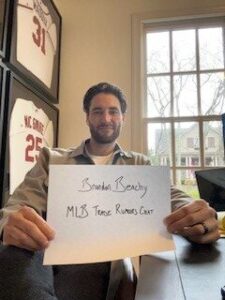 After Beachy led the minors with a 1.73 ERA as a starting pitcher in 2010, he could no longer be ignored.  He got the call at age 24, and in his second big league start Beachy struck out nine in an outing against the Nationals.  He made the Braves' NLDS roster against the Giants, but didn't get into a game in that series.
Beachy broke camp in the Braves' rotation in 2011 and had an excellent season.  He put up a 3.68 ERA in 25 starts, leading all of MLB in strikeout rate among those with at least 140 innings.  Beachy's 169 punchouts set a Braves rookie record, until Julio Teheran topped it by one two years later and Spencer Strider flew past both of them last year.  And keep in mind, 2011 was a time when the average MLB starter had a 17.6 K%, as opposed to 21.6% in 2022.  Beachy put up a 28.6 K% that year, in his first full season.
Beachy was still riding high on June 16th, 2012, leading the Majors with a 2.00 ERA after 13 starts.  Unfortunately, at that point Beachy wound up needing Tommy John surgery.  Only 13 months later, Beachy was back on a Major League mound with Atlanta.  His ascent was again derailed when it was discovered he'd need a second Tommy John procedure the following spring.
Non-tendered by the Braves after 2014, Beachy signed a deal with the Dodgers in February 2015.  He made it back for a couple starts in July of 2015, but sadly, those would be the last of Beachy's MLB career.  He made one appearance for the Arizona League Dodgers in 2016, and didn't resurface again until signing with the independent league New Britain Bees in August 2018.  Beachy parlayed that into a minor league deal with the Giants in 2019.  He made one appearance for the Sugar Land Skeeters in 2020 before calling it quits at age 34.  As Beachy puts it in an email to MLBTR, "Fear of what was next led to a few comeback attempts (some indy ball and minors) I probably shouldn't have made."
Unfortunately, the realization around MLB that pitchers need more than 13 months to recover from Tommy John surgery came after Beachy first received the procedure.  His story serves as a reminder that a return to form is far from guaranteed after this serious surgery.
It was surprising that Beachy made it to the Majors in the first place, and then after he established himself it was surprising that he only made 48 career starts.  However, he can still say that at some point 11 or 12 years ago, he was one of the very best pitchers in MLB.  In 2011, Beachy punched out 10+ batters on three separate occasions.  And in 2012 against the Marlins, he authored a complete game, 122-pitch shutout.
Once one of the faces of the Braves franchise, Brandon is now into franchising in a different sense.  In explaining his post-playing career, Beachy says, "Franchising was for me. I could use the skills that I developed through a life in sports (hard work, self-motivation, resilience, teamwork and leadership) and apply them to a proven system to be successful."  That led Brandon to a company called FranChoice, where he offers "a free service of educating other former players, and people of all walks of life too about franchising and then after getting to know them, match them with businesses that would be fits for them and their goals, guiding them through that process."  You can check out Brandon's LinkedIn page here.
Brandon chatted with MLBTR readers for nearly two hours today, regaling us with some fantastic baseball stories.  The one about his hijinks at Wrigley Field is a classic.  Brandon also discussed his former Braves teammates, his Tommy John experience, pitching against former stars of the game, and much more.  Read the transcript here.
If you're a current or former MLB player, we'd love to have you on for a chat!  It's quite easy to do, and you get to pick which questions to publish and answer.  Reach out if you're interested!