Among free agent starters with at least 100 innings pitched in 2011, C.J. Wilson, C.C. Sabathia, and Mark Buehrle unsurprisingly comprise the top three in ERA.  Erik Bedard snags the fourth spot with a 3.62 ERA, the bigger surprise being the lefty's health rather than his performance.  But just a hair behind Bedard in the free agent ERA rankings is a man who had to sign a minor league deal in late January: Freddy Garcia.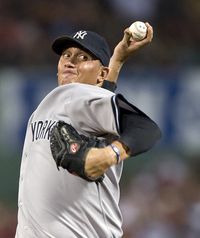 After the 2006 season Garcia had tallied 200+ innings in six consecutive years.  Seeking a front-rotation arm, Phillies GM Pat Gillick acquired Garcia from the White Sox for Gavin Floyd and Gio Gonzalez at the Winter Meetings that year.  Biceps soreness set in that spring for Garcia, who began the year on the DL.  The big righty threw 56 innings for the '07 Phillies, at which point a serious shoulder injury was diagnosed.  He had surgery in late August, and became a hot commodity as a free agent a year later.  Garcia gave the '08 Tigers three September starts and planned to participate in the Venezuelan Winter League to further prove his health.
Garcia's shoulder flared up at that point, but he was healthy enough to land a $1.5MM base salary with $6.5MM in incentives from the Mets in January of '09.  Mets GM Omar Minaya convinced Garcia to accept a minor league assignment to begin that season, but he was released by the end of April.  It was a low point for Garcia, who signed back with the White Sox in June of that year on a minor league deal.  Garcia closed out his season with nine starts for the Sox, pitching well enough to prompt the team to exercise a $1MM option in October.
In 2010 we saw a full season of the new Garcia.  The results: a 4.64 ERA, 5.1 K/9, 2.6 BB/9, 1.32 HR/9, and 40.7% groundball rate in 157 innings.  It wasn't enough to merit a big league deal, so the Yankees signed him to a minor league contract in January and he soon became the favorite to be the team's fourth starter.  An August finger injury cost Garcia a few starts, but he ended up with similar numbers: a 5.9 K/9, 2.8 BB/9, 0.98 HR/9, and 36.4% groundball rate in 146 2/3 innings.  If you count a minor league start and a postseason start, Garcia pitched 156 innings.
SIERA says Garcia's skills suggest an ERA around 4.28, rather than his actual 3.62 mark.  That's still an improvement over 2010.  Garcia slightly improved his strikeout rate, perhaps due to some changes in his mix of pitches.  Garcia still profiles as a back-end starter, but his new level of performance should result in a guarantee at least matching the $3MM given to the likes of Brad Penny and Brandon Webb last winter.
Garcia appears to have earned over $4MM this year including incentives, and the Yankees must decide whether to offer arbitration if his fringe Type B status holds up.  Perhaps the Yankees can convince him to decline arbitration, as otherwise the process could lead to a $5-6MM guarantee should the pitcher accept.  Garcia has shown he can provide that amount of value, but despite the lower ERA this year the market perception would probably put him below a $5MM base salary as a free agent.
Photo courtesy of Icon SMI.