Dodgers fans are looking forward to new ownership next season, and now they have certainty about their cornerstone center fielder.  The Dodgers and Matt Kemp signed an eight-year, $160MM extension today, which ties for the seventh-richest contract in MLB history.  
Kemp obtains a $2MM signing bonus and earns a $10MM salary in 2012, according to Dylan Hernandez and Mike Hiserman of the LA Times.  $2MM of Kemp's '12 salary is deferred without interest, so the Dodgers only take an $8MM payroll hit next year. The deal does not include a full no-trade clause, according to Jim Peltz of the LA Times.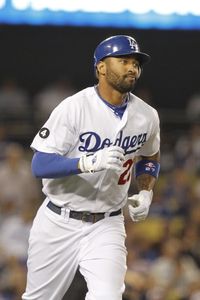 Kemp, 27, did not want to discuss an extension once his 2012 contract year began.  He might have earned $15MM+ through arbitration for '12, so the new deal buys out seven free agent seasons at more than $20MM each.  At $160MM, Kemp ties Manny Ramirez's free agent contract from 11 years ago as the seventh-largest in MLB history, for now.  Prior to Kemp, the biggest contract in Dodgers history was Kevin Brown's $105MM deal in December of '98.  Kemp is represented by former pitcher Dave Stewart.  
Kemp is expected to finish highly in the NL MVP voting later this month after breaking out with a .324/.399/.586 line and 39 home runs in 689 plate appearances this year.  Outside of 2010, UZR has shown Kemp to be roughly an average defender in center field.
Earlier this month, owner Frank McCourt agreed to sell the Dodgers.  GM Ned Colletti was able to lay the groundwork for the Kemp deal despite the uncertainty surrounding the team when McCourt appeared headed for a bankruptcy trial.
With Kemp off the board, here's a look at those eligible for free agency after the 2012 season.
Ken Rosenthal of FOX Sports broke the story, with SI's Jon Heyman tweeting news of the agreement.
Photo courtesy of Icon SMI.