The Reds have already improved their starting rotation with the addition of Mat Latos this offseason, and now they've bolstered the bullpen. In a rare intra-division trade, Cincinnati has acquired lefty reliever Sean Marshall from the Cubs for Travis Wood, Dave Sappelt, and Ronald Torreyes. Both teams have announced the trade.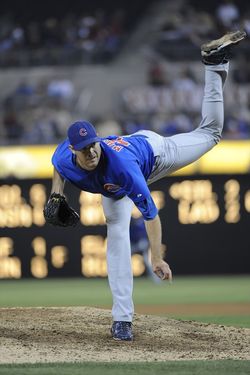 Marshall, 29, has established himself as one of the game's top left-handed relievers. He posted a 2.26 ERA with 9.4 K/9, 2.0 BB/9 and a 57.5% ground ball rate in 2011. He'll earn $3.1MM during the 2012 season, after which he's eligible for free agency. The Reds have been looking for a closer, but it's not clear how they'll use Marshall and how his presence will affect Cincinnati's interest in relievers such as Francisco Cordero.
Wood is a 24-year-old left-hander who's under team control through 2016. He posted a 4.84 ERA with 6.5 K/9 and 3.4 BB/9 with a 32.1% ground ball rate in 106 innings for the Reds this past season. Though he added value in '11, he didn't match his 2010 numbers: a 3.51 ERA with 7.5 K/9 and 2.3 BB/9 in 102 2/3 innings.
Sappelt, a 24-year-old outfielder, hit .243/.289/.318 in 118 plate appearances for Cincinnati last year, his big league debut. He produced a .313/.377/.458 batting line in 336 plate appearances for their Triple-A affiliate in 2011. Torreyes, a 19-year-old infielder, posted a .356/.398/.457 batting line in 306 plate appearances at the Low Class-A level this past season. Baseball America ranked Sappelt and Torreyes as the Reds'20th and 22nd best prospects in last year's Prospect Handbook, respectively.
Bruce Levine of ESPN Chicago broke the news of the trade agreement while ESPN's Keith Law later added details (on Twitter). Photo courtesy of Icon SMI.
Mike Axisa contributed to this post.