Heading into this offseason, pundits seemed unable to agree whether C.J. Wilson or Yu Darvish was the most desirable pitcher available to MLB teams. While a case could be made for either hurler, they likely would've been battling for second place had Giants right-hander Matt Cain not signed a contract extension delaying his free agency by a year. Prior to the 2010 season, Cain and the Giants agreed to a three-year, $27.25MM deal that will make him a free agent after 2012, rather than 2011.
The extension, Cain's second with the team, has worked out splendidly for San Francisco. The 27-year-old enjoyed arguably his best two seasons in 2010 and 2011, earning Cy Young votes for the first time while posting a 3.01 ERA, 7.2 K/9, and just 2.5 BB/9 in 66 starts. Cain will make $15MM in 2012, but if the Giants hope to keep him past next year, they'll have to commit significantly more money than that.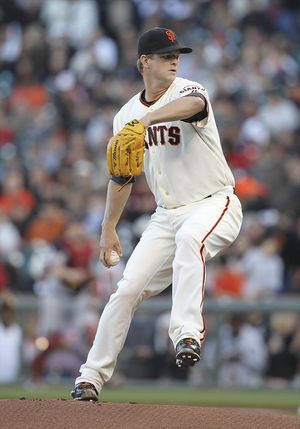 Earlier this month, Andrew Baggarly of the San Jose Mercury News reported that the Giants figure to be aggressive in their attempts to lock up Cain before Spring Training. The club has also been said to prefer extensions of about four years, so what would a long-term deal for Cain look like?
The going rate for elite arms suggests Cain could aim for $20MM+ annually on a long-term deal on the open market if he pitches well again in 2012. Baggarly spoke to an executive who thought the Landon Williams client could land a $150MM deal as a free agent, and while that prediction may be a little bullish, it's not out of the realm of possibility. Cain will turn just 28 as the 2012 season ends, and recent marquee free agents like Cliff Lee and C.C. Sabathia signed for annual average values of about $23-24MM. Meanwhile, pitchers that signed extensions with their current teams, such as Justin Verlander, Felix Hernandez, and Roy Halladay, will make about $20MM for most of their free agent years. Although Cain may not quite be in the same company of those Cy Young winners, he certainly has a stronger track record than Wilson, whose new contract exceeds $15MM in annual average value and reportedly wasn't even his largest offer.
If we assume the Giants can get Cain to agree to a four-year deal, not including 2012, they could be looking at a commitment in the neighborhood of $100MM over the next five years — $15MM for 2012, $20MM each for the next four, and maybe a $5MM buyout on a 2017 option. Cain has played it relatively safe with his previous contract extensions, so perhaps he'd pass up a chance at the open market to remain with the Giants long-term at that price.
What remains to be seen, however, is whether the Giants even be willing to offer such a contract. Barry Zito still has $46MM remaining on his seven-year deal, Madison Bumgarner's cost will soon increase significantly (potentially next winter as a Super Two), and most importantly, the Giants would like to lock up two-time Cy Young winner Tim Lincecum, who could soon become the most expensive of all their starters. Given the club's struggles to produce offensively in recent years, it may not be viable to tie up so much money in the starting rotation.
In his previously linked piece, Baggarly wrote that there's a "feeling around the league" San Francisco will have to part with either Cain or Lincecum at some point, rather than keeping both on long-term deals. If that's the case, perhaps the Giants will tip their hand before the season begins — each of Cain's past two extensions were inked in March, before Opening Day.
Photo courtesy of Icon SMI.