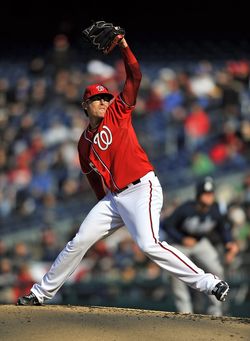 The Washington Nationals are clearly a team on the rise, combining a young rotation (Jordan Zimmermann, Stephen Strasburg, Gio Gonzalez) with an improving offense (Ryan Zimmerman, Mike Morse, Danny Espinosa, Wilson Ramos, eventually Bryce Harper) and a solid bullpen. Part of that bullpen is setup man Tyler Clippard, who's been one of the game's best relievers since the Nats moved him to the bullpen full-time in 2009.
Clippard, 27 in February, was acquired from the Yankees for Jonathan Albaladejo in December 2007. A starting pitcher with just a half-dozen big league starts to his credit at the time of the trade, the Nats kept the right-hander in Triple-A for the majority of the 2008 season. He struggled, pitching to a 4.77 ERA with 7.9 K/9 and 4.2 BB/9 in 143 minor league innings that year, making a pair of unspectacular spot starts for Washington in June. The Nationals moved him to the bullpen full-time in 2009, and after a 24-game trial in the minors, he was called up in late-June and has been a bullpen force ever since.
Since that June 2009 call-up, Clippard has pitched to a 2.52 ERA with 10.6 K/9 and 3.7 BB/9. His arm has proven to be resilient after working 91 innings in 2010 (78 appearances) and 88 1/3 innings in 2011 (72 appearances), and his fastball velocity has actually increased the last two years. He also cut his walk rate from 4.3 BB/9 in 2009-2010 to just 2.6 BB/9 in 2011. Clippard's biggest flaw is his utter inability to get ground balls, which makes him homer prone. His 25.6% ground ball rate since the start of 2009 is easily the lowest among all pitchers (min. 200 IP), and his 1.05 HR/9 is the third highest among relievers during that time. He did make his first All-Star team in 2011 despite the long ball problem.
Clippard qualified for Super Two status by just two days of service time this offseason, so he'll be arbitration-eligible four times instead of the usual three. Our system projects him to make $1.7MM in 2012, which puts him in uncharted territory for non-closing relievers. Fellow Super Two relievers like George Sherrill ($900K in 2008), Brandon League ($640K in 2009), Rafael Perez ($795K in 2010), and Nick Masset ($1.035MM in 2010) all received considerably less their first time through arbitration while Brian Wilson ($4.4375MM in 2010) received considerably more thanks to his saves total. Clippard falls somewhere in the middle, an elite setup man without enough saves to pad his salary.
You don't see many teams locking up relievers to long-term contracts that buy out arbitration years for a number of reasons, namely the risk involved. Relievers are more volatile than just about any other position in the game, plus their salaries generally remain affordable through arbitration anyway. Wilson, Masset, Manny Corpas, and Jonathan Broxton all signed multi-year contracts that bought out some (but not all) arbitration years and no free agent years. A similarly structured contract could benefit both the Nationals and Clippard.
A two-year contract in the $4-4.5MM range or a three-year contract around $8MM seasons reasonable, though that is just my speculation. A relatively short-term commitment like that would put some guaranteed money in Clippard's pocket while allowing him to maintain the earning potential of his later arbitration years and free agency. The Nats would get some financial certainty and save a few bucks before he starts approaching closer money through arbitration. Most relievers don't get the luxury of multi-year contracts, but then again Clippard isn't most relievers. Washington is improving every year, and a multi-year deal for their star setup man could help ensure that he's still affordable when they're ready to contend.
Photo courtesy of Icon SMI.