What MLB can tell us about the NBA and vice versa. GMs from both sports offer insight to MLBTR. 
When he was growing up in Massachusetts, long before he was paid to run a sports team, Sam Presti looked forward to nationally televised baseball games each week. Baseball runs in the water where Presti comes from, and the weekly contests featured players he didn't see on his visits to Fenway Park. 
"We didn't have cable and it was my chance to see National League teams that I never got to see," he told me earlier this year. "I loved watching the Expos teams and the Cardinals, since I was introduced to a whole new group of players." 
Today, Presti's interest in baseball persists, albeit in a new way. The 35-year-old general manager of the NBA's Oklahoma City Thunder still follows baseball for the enjoyment of the sport. But he also watches with a sense of curiosity and competitiveness that he shares with a growing number of his peers around the NBA. Perhaps, their thinking goes, basketball teams can learn from baseball's brightest minds and best-run franchises.
It's not that Presti's teams have failed to compete in the NBA. Led by Kevin Durant (pictured), the second overall pick in the 2007 draft, the team finished its most recent campaign with a 55-27 record. Before joining the Thunder, Presti worked for the San Antonio Spurs, one of the league's most successful franchises, and was instrumental in the acquisition of point guard Tony Parker. So when Presti chats with MLB executives — and he knows his share of them — we can be sure he isn't quizzing them on Russell Westbrook's court vision or Kendrick Perkins' defense. Instead, he looks to baseball people for insight on topics that apply to both sports.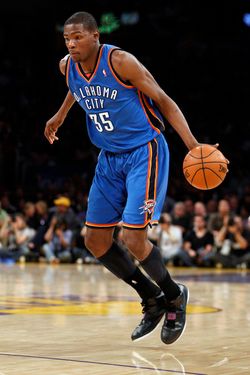 "More than anything I think it helps you ask the right questions," Presti said. "Questions about your game, your systems, your processes. I think that it's healthy for us to ask the right questions. I think any time you're watching another sport it definitely helps your imagination and creativity."
There's no shortage of creativity in today's NBA. Many teams use objective analysis to supplement scouting reports and make decisions regarding personnel and strategy. For example, the perennially competitive Houston Rockets named Daryl Morey their general manager in 2007. A computer science graduate who grew up reading Bill James, Morey's thirst for knowledge extends beyond the basketball court.
In that respect, he has a lot in common with Sam Hinkie. Now the Rockets' executive VP of basketball operations, Hinkie works with Morey to construct the team's roster, develop in-game strategies, and communicate with coaches. Before joining the Rockets, Hinkie consulted for two NFL teams, so he's intimately familiar with the potential impact of inter-sport comparisons.
"There's very little sharing that goes on within our sport for good reason," Hinkie told me. "Every team is trying to do something and any foothold they might find, they don't want to point out to anyone else." 
But when it comes to sharing information across sports, teams aren't so secretive. The resulting openness would be unthinkable within a single sport. And the big-picture topics sports executives explore with one another can have a significant impact on wins and losses. The potential for discussion is limitless.
"Psychology of individual players, how to prevent injuries, how to foster innovation within your organization in general, strength training," Hinkie explains. "In a five minute conversation you pick up a lot where you think 'that's what they do, we should investigate more because it's a similar challenge to the one we face.'"
In other words, they aren't sharing statistical formulae — those wouldn't actually apply to other sports — but the conversations are productive regardless. For example, Morey stays in touch with Cubs GM Jed Hoyer, who says sharing information across sports is considerably easier than doing so within MLB.
"No question," he said. "Because if you have a good relationship with an executive in another sport and you talk about something technological it's not going to impact his sport. I think it is sometimes easier."
However, the search for a competitive advantage extends beyond the quest for more sophisticated technology and metrics. There's meaning in statistics, as the modern-day fan and executive knows. Explaining this knowledge to the decision makers and players represents another challenge altogether.
"It's being able to communicate those ideas to our coaches and our players as we try to actually take those ideas and drive changes," Hinkie said. "I think [communication] is under-invested in, honestly. The quality of an idea relies heavily on your ability to get that point across."
To suggest that basketball teams look up to baseball teams would be inaccurate. Though Bill James and others championed alternative thinking in baseball before similar movements gathered support in other sports, NBA teams have since developed advanced metrics of their own. But innovation in basketball often takes place privately, whereas there's a tradition of public-sphere baseball analysis. 
Though crunching the numbers can be productive, execs can also learn from sports other than their own by watching the athletes themselves. Certain body types and skillsets thrive on a baseball diamond, while others are better suited to the basketball court, the hockey rink, or the cubicle. 
When Alex Anthopoulos watches athletes in other professional sports, he isn't necessarily looking for the next Bo Jackson or Danny Ainge (Ainge, a former Blue Jays infielder and NBA guard who has become the Celtics' GM, employs an analytically minded assistant GM in Boston). Anthopoulos' scouting skills are unpolished when it comes to basketball or football, but he watches the sports nonetheless.
"I love scouting. I love evaluating. I love analyzing," the Blue Jays GM told me. "I'm analytical probably to a fault. I probably overdo it at times. So I try to watch those other sports through a scouting lens even though I don't know what I'm doing. I don't know how to scout other sports."
Not that it stops Anthopoulos from watching (he's reportedly friendly with Toronto Maple Leafs GM Brian Burke, who also knows Hoyer). Even if he's not a professional basketball scout, Anthopoulos can apply general scouting principles to sports other than baseball.
"I try to incorporate things that I incorporate in baseball," he said. "So if I'm watching basketball, I'll look at athleticism, body control. You have a delivery and arm action if you pitch. I look at your motion in the NBA, how you shoot, what your mechanics are, how that may impact the rotation and spin on the ball."
It's not just business, though. As a general rule, sports executives have the jobs they have because they enjoy sports immensely. But one of those sports has become a job, so watching other leagues can be way of enjoying competition for its own sake.
"I'm a sports fan," Hoyer explained. "I enjoy watching other sports, since it's not baseball — it's not work, and I can be on the couch and enjoy myself watching a college basketball game or a football game."
Photo courtesy Icon SMI.