John Danks and Matt Garza have a lot in common. Both are above-average MLB starters in their late-twenties who were traded early in their careers. They're arguably the best starting pitchers on Chicago's two teams, and Baseball-Reference suggests they're about as statistically analogous as two players can be.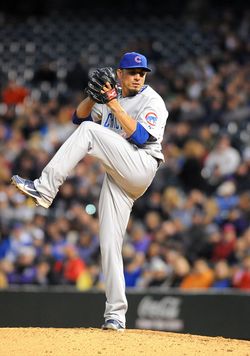 As this table shows, Danks and Garza have had remarkably similar careers to date. Their rate stats are comparable and their career win-loss records and innings totals are nearly indistinguishable (Garza has recorded 17 more outs than Danks over the course of their careers). Not surprisingly, the two CAA clients have been linked to one another for years through arbitration.
Danks just signed a five-year $65MM extension, and Garza's agent Nez Balelo no doubt took note, since his client doesn't yet have a long-term deal. Cubs president of baseball operations Theo Epstein says he considers Garza a potential building block, so it's possible the Cubs will discuss an extension if they don't trade Garza this offseason.
Danks has 23 more days of service time than Garza and those three weeks matter a great deal from a contractual standpoint. Unlike Danks, Garza is a super two player. This means the Cubs control his rights for one extra year (through 2013) and means there's less urgency to extend Garza.
Should the Cubs look to extend Garza, they'll have more leverage than their cross-town rivals did, since the extra year of control buys Epstein and GM Jed Hoyer time. Garza projects to earn a total of $20MM or more in the next two years and the Cubs may look to buy out an additional two seasons for $14-15MM apiece if they explore a deal. Perhaps a four-year, $52MM deal would work for both sides.
Photo courtesy Icon SMI.