Despite many rumors to the contrary, John Danks isn't going anywhere. The White Sox announced that they have agreed to sign the left-hander to a five-year, $65MM contract extension. Danks will earn $8MM in 2012 and $14.25MM annually from 2013-16.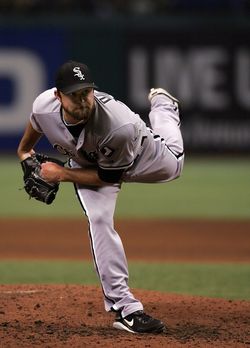 Danks would have been eligible for free agency following the 2012 season, his final year as an arbitration eligible player. Matt Swartz projected a 2012 salary of $7.6MM for the 26-year-old CAA client, who earned $6MM in 2011. That means the White Sox are paying $14-15MM for each of the four free agent seasons the deal buys out (Danks' age 28-31 seasons).
Jered Weaver's recent $85MM extension also covered one arbitration season and four free agent years. However, Weaver has superior career stats, was headed for a massive reward through arbitration and has finished in the top five in AL Cy Young balloting in both of the past two seasons. Weaver's deal was definitely out of reach for Danks and agent Jeff Berry.
Another comparable pitcher, Chad Billingsley, signed a three-year extension worth $35MM this spring. His deal covers his final season of arbitration eligibility and his first two seasons of free agency, which means Danks obtained two more years of security. However, Billingsley signed his deal (it's a team-friendly one) two full seasons before free agent eligibility, while Danks was just one season away from the open market. Danks and Billingsley are similar pitchers who have been compared to one another for years through the arbitration process.
Danks posted a 4.33 ERA with 7.1 K/9, 2.4 BB/9 and a 43.8% ground ball rate in 170 1/3 innings for the White Sox this past season. Only 16 pitchers in baseball have produced more wins above replacement since 2008 (15.6).
Cole Hamels, Matt Cain, Zack Greinke, Jeremy Guthrie, Francisco Liriano, Shaun Marcum, Jonathan Sanchez and Anibal Sanchez are among the 2013 free agents who might look to use Danks' recent deal as a point of reference should they discuss possible extensions with their current teams.
Jon Heyman of CBSSports.com reported the news (Twitter links). Doug Seyller reported the agreement on Twitter and appears to have broken the story. Photo courtesy Icon SMI.