The Athletics acquired outfielder Seth Smith from the Rockies for righty Guillermo Moscoso and lefty Josh Outman, according to the Rockies' Twitter feed.  The A's are a somewhat surprising match for Smith, but they did need corner outfield help after losing Josh Willingham and David DeJesus to free agency.  Josh Reddick and Coco Crisp round out Oakland's outfield.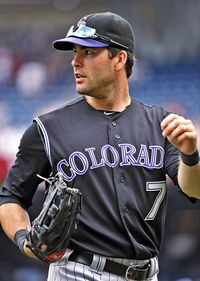 Smith, a 29-year-old left-handed hitter, batted .284/.347/.483 with 15 home runs in a career-high 533 plate appearances for the Rockies last year.  The corner outfielder has struggled against southpaws in his career.  Smith (pictured) is under team control through 2014, and MLBTR reported last night that he'll earn $2.415MM in 2012.  The Rays, Mariners, Braves, and Mets are among the other teams that showed interested in Smith this winter.  He became expendable after the Rockies signed Michael Cuddyer for $31.5MM in December.
Moscoso, 28, had his first prolonged big league exposure last year for the A's.  He posted a 3.38 ERA, 5.2 K/9, 2.7 BB/9, 0.98 HR/9, and 26.8% groundball rate in 128 innings.  His flyball/pitch-to-contact approach might not play well at Coors Field.  Originally signed by the Tigers, Moscoso was traded to the Rangers in December of '08 for Gerald Laird and then to the A's a year ago for Ryan Kelly.  Prior to the 2010 season, Baseball America wrote, "Moscoso is ready for a big league role, either as a back-of-the-rotation starter, a long reliever, or a swingman."
Outman, 27, tossed 58 1/3 big league innings last year and another 78 1/3 at Triple-A.  He's been a useful starter in the Majors, with a chunk of missed time due to June 2009 Tommy John surgery.  Outman was drafted by the Phillies in 2005 and traded to Oakland in '08 as part of the Joe Blanton deal.  Prior to that season, BA said Outman profiled as a number three starter.  Now, he'll join Moscoso in what Rockies GM Dan O'Dowd called a "raging competition" for rotation spots.  The Rockies are actually close to adding a veteran starter to the mix for more depth, tweets Troy E. Renck of the Denver Post.
Photo courtesy of Icon SMI.