1:44pm: Padilla received a minor league deal that pays $1.5MM in the Majors, reports the Boston Herald.    
11:34am: The Red Sox reached an agreement with righty Vicente Padilla, tweets Peter Gammons of MLB Network.  Boston's interest in Padilla was first reported by Francisco Jarquín Soto at the Nicaraguan paper El Nuevo Diario two days ago.  Padilla is represented by Wasserman Media Group.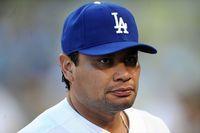 Padilla (pictured) made only nine appearances for the Dodgers in 2011, all in relief, before neck problems ended his season in June. He briefly took over the closer's job from Jonathan Broxton, though in recent years the 34-year-old has been a swingman and spot starter (he thrived as a starter as recently as 2010). He has reportedly been hitting 95-96 mph with his fastball this winter in Nicaragua, and has said he wants to fight for a rotation spot. Seeing as the Red Sox have no shortage of hard-throwing righties in their revamped pen, Padilla could get his wish if his health permits.  Aaron Cook and Carlos Silva are expected to be part of that fifth starter battle.
Aside from his injury history, Padilla brings the baggage of a 2006 DWI and a reputation as a headhunter.
Nick Collias contributed to this post.  Photo courtesy of Icon SMI.