Michael Morse's emergence for the Nationals began in 2010, when he hit 15 home runs in a half-season.  Given the chance to play every day in 2011, Morse's production more than held up.  The first baseman/left fielder hit .303/.360/.550 with 31 home runs in 575 plate appearances, snagging a couple of down-ballot MVP votes.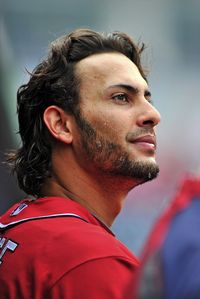 Morse turns 30 in March and has four years and 114 days of Major League service time.  Matt Swartz's projections for MLBTR call for approximately a $3.9MM salary for 2012, Morse's second time through arbitration.  The Nationals control him for the 2013 season as well.
Morse is represented by ACES, an agency that has shown an openness to extensions in the past.  Nationals GM Mike Rizzo has a few on his ledger as well, for Ryan Zimmerman and Sean Burnett.  As a player who will be 30 when the season begins with one full strong season on his resume, I imagine Morse will be more open than most to signing an extension two years away from free agency.
Comparables will be hard to come by.  Two players who signed three-year deals with between four and five years of service might be factors: Michael Cuddyer and Carlos Pena.  Cuddyer and Pena signed three-year extensions for about $24MM in January of 2008, guaranteeing two arbitration years and one free agent season.  Cuddyer's contract had a club option for a second free agent season.
Cuddyer and Pena actually weren't directly comparable.  Cuddyer was not coming off his best season, and had accumulated his service in a normal way.  Pena was coming off a monster 46 home run, 121 RBI campaign after spending most of 2006 in the minors.  Morse's platform year sits between that of Cuddyer and Pena, and his career AVG/OBP/SLG tops Pena if batting average is considered.  However, Morse gets crushed in career counting stats, having only one full season to his credit.  Morse has 383 career games and 1260 plate appearances, compared to 600+ games and 2300+ plate appearances each for Cuddyer and Pena.  Plus, Cuddyer and Pena signed four years ago.
Morse, ACES, and the Nationals might have to forge somewhat new territory.  I propose $3.5MM for 2012, $6MM for 2013, and $9MM for 2014, for a total of $18.5MM over three years.  The Nationals will probably want a club option for a fourth year, perhaps at $10MM.  If the $18.5MM range seems low, remember that Morse earned only $1.35MM in 2011 and his 2012-13 salaries will stem from that amount.
Photo courtesy of Icon SMI.