The Cubs' revamped rotation has gotten deeper, as they've officially signed lefty Paul Maholm to a one-year, $4.75MM deal that includes a 2013 club option for $6.5MM with a $500K buyout.  He can earn up to $550K in incentives each year, tweets Ken Rosenthal of FOX Sports.  With Matt Garza, Ryan Dempster, Chris Volstad, Travis Wood, and Randy Wells already on the club, the new Cubs management has accumulated much-improved rotation depth.  The Maholm signing isn't a precursor to another move, GM Jed Hoyer told reporters today.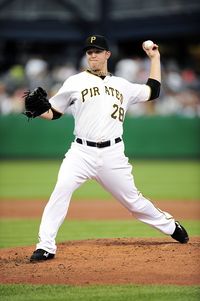 As a member of the Pirates for seven seasons, Maholm has logged 64 career innings at Wrigley Field. The 29-year-old posted a 3.66 ERA, 5.4 K/9, 2.8 BB/9, 0.61 HR/9, and 49.9% groundball rate in 162 1/3 innings for the Bucs in 2011. I ranked him as the ninth-best free agent starter in October. Maholm, a Bo McKinnis client, had his 2011 season cut short in August due to a shoulder strain. After the season the Pirates chose a $750K buyout over his $9.75MM club option.
So far this offseason Cubs president Theo Epstein and GM Jed Hoyer have signed David DeJesus, Reed Johnson, Manny Corpas, and Andy Sonnanstine via free agency. They've added Ian Stewart, Casey Weathers, Ronald Torreyes, Dave Sappelt, Wood, Volstad, Zach Cates, and Anthony Rizzo via trade.
Bruce Levine of ESPNChicago first reported the near-agreement, with Paul Sullivan of the Chicago Tribune adding contract details.  Mike Axisa contributed to this post. Photo courtesy of Icon SMI.