The Mariners needed hitting, the Yankees needed pitching.  The two teams addressed each other's needs in a blockbuster trade of young stars, as right-handers Michael Pineda and Jose Campos will go to the Bronx in exchange for catcher/DH Jesus Montero and righty Hector Noesi.  Both teams confirmed the trade this afternoon.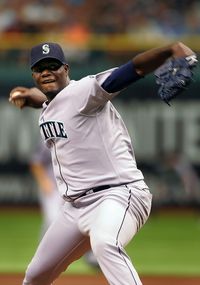 The Yankees re-signed C.C. Sabathia and Freddy Garcia this winter, but those moves amounted to just standing pat with a rotation that (after Sabathia) contained several question marks.  In Pineda, however, the Yankees now have one of the top young arms in the game and one who has already showed he can perform at the Major League level.  Pineda (pictured) posted a 3.74 ERA, a 3.15 K/BB ratio and a 9.1 K/9 rate in 28 starts last season, earning an All-Star appearance and a fifth-place finish in the AL Rookie Of The Year vote.  Pineda recently turned 23 and is under club control through 2016.
Campos, 19, is another intriguing young arm.  John Sickels of Minor League Ball ranked Campos as the fifth-best prospect in Seattle's system going into 2012, noting that while Campos' secondary pitches need some polish, "his upside is very high, he throws hard, and already throws strikes."  Campos is coming off a dominant campaign in low Class-A ball in 2011, posting a 2.32 ERA and a whopping 6.54 K/BB in 14 starts.  Joel Sherman of the New York Post hears from an NL executive that if Campos was in this year's amateur draft, "he is [a] no-doubt top-10 pick" (Twitter link).
Montero was a top-four prospect in both 2010 and 2011 according to Baseball America and the 22-year-old showed why when he posted a .996 OPS in 69 September plate appearances.  Montero was drafted as a catcher but questions about his defensive capabilities had several pundits projecting his long-term future to be at designated hitter or first base.  In New York, these spots will be blocked by Mark Teixeira and Alex Rodriguez for the next several seasons, but the bat-starved Mariners have plenty of room in the lineup.  Montero immediately projects as Seattle's probable #3 hitter, splitting time between DH and catcher, and it's easy to see Montero hitting behind Dustin Ackley for years to come.
Montero was very nearly a Mariner in July 2010, as he headlined a prospect package the Yankees were ready to send to Seattle for Cliff Lee.  The M's, however, pulled out of that trade and ended up dealing Lee to the Rangers.  Yankees management was reportedly upset that the Mariners pulled out of the deal at the last minute, but whatever hard feelings existed between the two clubs clearly weren't enough to keep them from doing business 18 months later.
Noesi appeared in 30 games for New York last season (two of them starts), posting a 4.47 ERA and a 2.05 K/BB ratio.  Noesi turns 25 later this month and amassed impressive numbers over six seasons in the Yankee farm system.  Noesi should get a shot at filling Pineda's rotation spot in Seattle and could blossom at pitcher-friendly Safeco Field. 
Jon Heyman of CBSSports.com was the first to announce the trade as official, with MLB.com's Greg Johns adding Campos and Noesi's involvement.  ESPN's Jerry Crasnick first heard of a "significant trade" involving a "young impact hitter" coming to the Mariners earlier today, and Larry Stone of the Seattle Times was the first to cite Pineda and Montero in the deal, as he had heard "rumblings in that direction."
Photo courtesy of Icon SMI.