In the context of nine-figure player contracts and billion dollar TV deals, $250K isn't all that much money, yet the Pirates and Garrett Jones went to an arbitration hearing over that sum earlier today. A panel of arbitrators must decide whether the first-time arbitration eligible outfielder/first baseman will earn $2.25MM or $2.5MM in 2012. Let's take a look at some players who could have figured into the discussion today.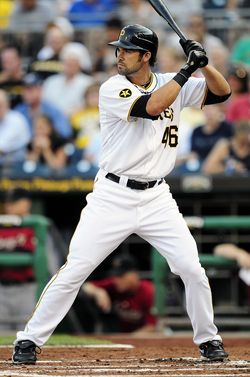 Recent first-time eligible position players who agreed to one-year deals in the $2.25-2.5MM range would have had the most clout in the hearing room. From the current class of arbitration eligible players, Dexter Fowler ($2.35MM), Nyjer Morgan ($2.35MM) and Seth Smith ($2.415MM) qualify and from last year's class we have Ian Stewart ($2.29MM), Chase Headley ($2.325MM) and David Murphy ($2.4MM). Those who played long ago, signed at different price points or agreed to extensions as first-time eligible players are generally less relevant. 
The midpoint for Jones' case sits at $2.375MM — more than Fowler, Morgan, Stewart and Headley obtained their first time through arbitration. The Pirates likely argued that Jones is no better than such players, while SFX would have explained that their client has accomplished more than relevant players below the midpoint. 
In terms of career power numbers, which matter a great deal for position players, SFX had a case. Jones has more career homers than any of the six players above had at parallel points in their careers, and more RBI than everyone but Murphy.
Smith recently obtained a salary above the Jones midpoint, just as Murphy did a year ago. The Pirates may have attempted to show that these players are superior to Jones, but SFX could have countered that Jones is at least as accomplished as Smith and Murphy.
There's ample room for interpretation — arbitration is both an art and a science. Take Headley, for example. The Pirates could have suggested that Jones' 2012 salary should stay below the $2.375MM midpoint because he doesn't measure up to Headley in terms of key stats like average and on-base percentage. SFX could have responded by pointing to Jones' superior power numbers, both for his career and in his platform season.
In other words, the sides would have highlighted different attributes of the same players in order to make their respective cases. If your head is spinning over the $250K question, you won't have to wait long for resolution — the verdict should arrive tomorrow.
Photo courtesy Icon SMI. For a look at Jones in relation to teammate Casey McGehee, click here.