Infielder Carlos Guillen announced his retirement today, according to the Mariners on Twitter.  He'd returned to his old team this offseason on a minor league deal.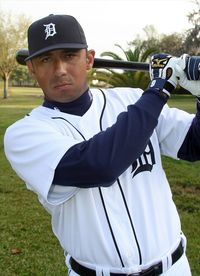 Guillen, 36, has spent an increasing amount of time on the disabled list in the last four seasons.  In a 14-year career for the Mariners and Tigers, he hit .285/.355/.443 with 124 home runs in 1,305 games.  He was a three-time All-Star with the Tigers, garnering MVP votes in '04 and '06.  The Venezuelan spent the bulk of his career at shortstop, but also logged innings at the other infield positions and left field.  Baseball-Reference indicates he earned about $69MM in his career, which included a four-year, $48MM contract with Detroit.  Guillen came up through the Astros' farm system, but was traded with Freddy Garcia and (eventually) John Halama to the Mariners for Randy Johnson at the July 1998 deadline.
Photo courtesy of Icon SMI.