Andrew McCutchen is officially the face of the Pirates through at least 2017.  The team announced his new six-year contract today, which reportedly guarantees $51.5MM and has a seventh year club option.  Rob Biertempfel of the Pittsburgh Tribune-Review has the salary breakdown.
McCutchen's contract buys out his final pre-arbitration year, all three arbitration years, and a pair of free agent seasons with a club option for another. The Pirates now control their young superstar through the 2017 or 2018, having previously controlled him through 2015.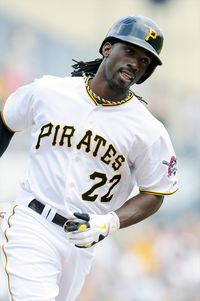 The 25-year-old, represented by Steve Hammond of Aegis Sports Management, has just two fewer days of service time than Jay Bruce did when he signed nearly the same deal — six years and $51MM. Likewise, Justin Upton had less than three years of service time when the Diamondbacks locked him up for six years and $51.25MM. The Pirates, like the Reds, were able to secure a club option, which Arizona failed to do in Upton's case.  MLBTR's Tim Dierkes examined McCutchen's case last May, noting how he'd played significantly more games than Upton and deserved at least as much money.
Pittsburgh selected McCutchen with the 11th overall pick in the 2005 draft. He debuted as a 22-year-old in 2009, and has since tallied 420 big league games while hitting a strong .276/.365/.458 with 51 homers and 78 steals. Ultimate zone rating hasn't been kind to McCutchen's defense thus far in his career, but he did post a positive mark for the first time in 2011, checking in with a UZR/150 of +3.3.
The Pirates have long been interested in locking McCutchen up, and now should have two-thirds of their outfield set for many years. Last August, the team secured a multi-year deal with Jose Tabata as well, inking a six-year guarantee with club options that run through the 2019 season.
As MLBTR's Transaction Tracker shows, general manager Neal Huntington has architected multi-year deals in the past for Tabata, Nate McLouth, Freddy Sanchez, Paul Maholm, Matt Capps, and Ian Snell, though none of those deals were anywhere near this magnitude. McCutchen's guarantee falls just shy of Jason Kendall's record for the largest contract in franchise history; Kendall received $60MM over six years back in November of 2000.
Michael Sanserino of the Pittsburgh Post-Gazette first broke news of McCutchen's contract Sunday night.  Photo courtesy of Icon SMI.