John Axford isn't yet arbitration eligible, but he may be approaching his first multimillion dollar payday as a Major Leaguer. The Brewers are discussing an extension with the late-blooming closer following his dominant 2011 performance.
Axford (pictured) could have a case for a $6MM salary as a first-time eligible player if he replicates his 2011 numbers this year. A first-year arbitration salary that high would lead to further raises in future years and the 28-year-old would soon cease to be a bargain. Axford is a valuable pitcher, but he's no Mariano Rivera, and the Brewers' pockets aren't as deep as the Yankees'.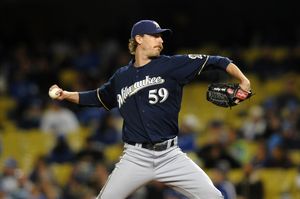 Matt Swartz showed this offseason that an elite closer with a history of saves gets paid far more than a set-up man or any other reliever. Axford, one of 13 pitchers in history to total at least 70 saves in his first three seasons, is well on his way to a significant paycheck via arbitration, so the Brewers are interested in capping costs. 
If Axford stays healthy and retains the closing job this year, he'll set himself up for a generous payday in 2013 when he's arbitration eligible for the first time. If he has a modest but successful season — say 60 games, 30 saves and an ERA of 3.25 — his credentials would match up favorably with the ones Chad Cordero, Brad Lidge, Brian Wilson and Andrew Bailey had as first-time eligible players. Those four each obtained deals in the $3.9-4.4MM range, so it's easy to imagine a 2013 payday of $4MM-plus for Axford. He already has 71 career saves, and all active pitchers who had 70 saves by the time they were arb eligible obtained at least $3.3MM if they signed one-year deals.
Here's where it gets interesting, and maybe a little scary, for the Brewers. If Axford comes close to repeating his 2011 numbers, he will be comparable to Jonathan Papelbon and Bobby Jenks, two closers who did exceptionally well for themselves as first-time eligible players. Both had 110-plus career saves by the time they hit arbitration for the first time, and with another 40-save season, Axford would be in their company. Papelbon earned a record $6.25MM salary through arbitration and Jenks checked in at $5.6MM, so Axford could be looking at a $6MM payday if he can replicate his 2011 success.
It's not as though the Brewers can't afford a $6MM closer. They've increased payroll substantially since Mark Attanasio bought the club and will spend approximately $100MM on the 2012 product. But relievers who earn $5-6MM as first-time eligible players can become too expensive in a hurry. For example, the White Sox non-tendered Jenks two years after awarding him a $5.6MM salary.
The Brewers could cap costs now by guaranteeing Axford enough money. They've discussed a deal of at least four years with the Beverly Hills Sports Council client, who could insure himself against an injury by agreeing to a long-term contract.
Now for the question that assistant GM Gord Ash and agent Dan Horwits are trying to answer: what would an extension look like? Joakim Soria, Sergio Santos and Manny Corpas are among the closers who signed multiyear extensions as pre-arbitration eligible players. However Axford has twice as many saves as any of them did at the time of their deals, to go along with a lower ERA, more appearances, and, in the cases of Corpas and Soria, more service time. Unlike those relievers, Axford won't be attainable for $8-9MM (Wilson's deal, while considerably more lucrative, kicked in after his first arb season, so it's not a great comp for Axford this early in his career).
A four-year deal would cover Axford's final pre-arbitration season and three of his four seasons of arbitration eligibility. I'm guessing that four-year chunk of Axford's career is worth $15-20MM. The year-to-year breakdown would depend on the preferences of the team and the player and isn't possible to predict completely, but perhaps a deal like this would work for both sides: $500K in 2012, $3.75MM in 2013, $5.5MM in 2014 and $7.25MM in 2015. 
A four-year, $17MM extension would provide Axford with the kind of security that would have seemed unattainable when he was bartending a relatively short while ago without delaying his arrival on the free agent market. The Brewers, meanwhile, would cap costs to ensure that his salary doesn't escalate to the point that they have to trade or non-tender him.
Photo courtesy Icon SMI.