Two of the game's best second basemen have agreed to contract extensions in the past 24 hours. Ian Kinsler took five years and $75MM from the Rangers while Brandon Phillips took six years and $72.5MM from the Reds, setting the market for elite players at the position. The Yankees and Robinson Cano were surely paying attention.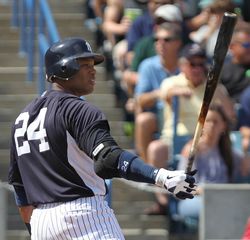 Cano, 29, will become a free agent after the Yankees exercise his no-brainer $15MM option for 2013. Kinsler – who is only five months older than Cano – was in a similar situation before signing his extension, with the Rangers holding a $10MM club option for 2013. The two are very different players – Cano hits for a much higher average while Kinsler offers some more power and speed – but they rate similarly in wins above replacement, or WAR. Since the start of 2009, Cano has compiled 16.3 WAR while Kinsler is at 15.8 WAR according to FanGraphs.
The two players may be similar, but Cano's credentials give him a better shot at a huge contract. He's a three-time All-Star, has twice finished in the top six of the MVP voting, was the Rookie of the Year Award runner-up in 2005, and has played in at least 159 games in each of the last five seasons. Kinsler is a two-time All-Star, has zero top-ten finishes in the MVP voting, and made at least one trip to the DL in five of his six big league seasons. Cano also has gaudier RBI totals, and that stuff pays.
Kinsler's extension contains the largest average annual value ($14MM) ever given a second baseman, though that will change when Cano's option is exercised. I'm sure the Yankees would love to give their second baseman the same five-year, $75MM contract Kinsler received, but that would represent a pay cut for Cano based on his salary for next season. Cano hired Scott Boras last February, and a player usually doesn't hire the super-agent so close to free agency unless he's looking for a monster payday.
Fair or not, the Yankees are going to have to give their second baseman a contract larger than what Kinsler and Phillips received if they intend to keep him beyond next season. Cano is primed for a six or seven-year guarantee with an annual salary somewhere in the $15-20MM range. If he takes a step forward and wins an MVP award this year or next, he could command even more on the open market. The Yankees insist on not negotiating new contracts until the current one expires, but they broke that policy once for Cano and it would not be surprising if they did it again.
Photo courtesy of US Presswire.