The Indians fortified their rotation and signed a first baseman, but choosing to retain two longtime players set the team back in the short-term.
Major League Signings
Notable Minor League Signings
Dan Wheeler, Ryan Rohlinger, Julio Lugo, Ryan Spilborghs, Fred Lewis, Jeremy Accardo, Argenis Reyes, Chris Ray, Robinson Tejeda, Andy LaRoche, Jose Lopez, Felix Pie.
Trades and Claims
Extensions
Notable Losses
When the offseason began, the Indians lacked outfield depth and answers in the rotation. They addressed both weaknesses over the winter, and could be considered a sleeper team for 2012. But this team also has its share of shortcomings.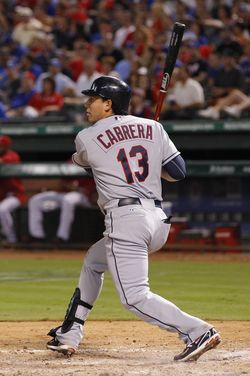 Back in October, the Indians faced the possibility that they'd lose longtime fixtures Fausto Carmona and Grady Sizemore. They moved quickly to exercise Carmona's option and allowed Sizemore to hit the open market before signing him at a bargain rate. At the time, both decisions seemed prudent.
However, Carmona had been using an assumed name and lying about his age. The Dominican government dropped charges against the right-hander, who's now known as Roberto Hernandez. He remains in the Dominican Republic, and though the Indians have re-structured his contract, it's still a blow for the team. Hernandez isn't helping them win games and he could face a suspension upon his return if the Juan Carlos Oviedo situation is to serve as precedent. The Indians now face an uncomfortable set of circumstances, even though Antonetti's decision made sense in October, when he exercised the groundballer's option.
Sizemore's injury came as less of a surprise than Carmona's identity issues, but it's similarly disappointing from the Indians' perspective. He'll miss at least another month or two recovering from back surgery, and Shelley Duncan will get lots of playing time in left as Michael Brantley shifts to center. The Indians invested considerably to retain Carmona and Sizemore, but there's no guarantee either player will help the team win in 2012. The team's biggest offseason investments have already become its biggest disappointments.
"Grady's injury certainly hurts," Antonetti told me via email. "But I feel as if we were able to improve the team from last year. If we stay healthy and our young players develop, we have a chance to have a good team."
That Duncan, Jack Hannahan and Casey Kotchman occupy three of the team's four corner positions may be cause for concern. None of those players have hit 15 homers in a Major League season. However, Hannahan and Kotchman are expected to provide strong defense behind the Indians' pitching staff. Third base prospect Lonnie Chisenhall and first baseman Matt LaPorta, who are both playing at Triple-A Columbus, have more offensive upside than the team's current starters and could join the big league club by the time the season's up.
The Indians added ground ball pitcher Derek Lowe to the rotation soon after the offseason began, taking on $5MM of the right-hander's 2012 salary. Though the Braves seemed eager to move Lowe, this acquisition makes sense for the Indians. He's an extreme ground ball pitcher who should provide 180 innings of league average production in 2012 (last year's 5.05 ERA was deceptively high). The Indians traded for fly ball pitcher Kevin Slowey later on, and he'll provide depth at Triple-A for now.
The Indians appeared to have interest in left field/DH types such as Jason Kubel, Michael Cuddyer and Josh Willingham early in the offseason. Later, the team was linked to players such as Vladimir Guerrero and Bobby Abreu, so the team had interest in adding offense.
If the Indians get off to a hot start, like they did in 2011, I'm guessing they'll be in the market for a left fielder who can hit. Duncan offers power, but doesn't get on base enough to be considered a well-rounded offensive threat. Next offseason, when Hafner's contract expires, the Indians could find themselves pursuing traditional DH types for the first time in years.
The Indians' relievers pitched respectably in 2011 and with the bullpen's key members under team control for the coming season, Antonetti didn't need to spend on relief. He did well to add Dan Wheeler on a minor league deal, since comparable pitchers obtained Major League deals worth $1MM or more. Newly-acquired right-hander Jairo Asencio currently has a spot in Manny Acta's bullpen, but if he falters the Indians have a number of qualified relievers at Triple-A. They'll prove useful over the course of the 162-game season.
Antonetti and team president Mark Shapiro have shown restraint in recent years and their team has no bad contracts going forward. Last offseason, Antonetti's first as Cleveland's GM, included minimal spending on free agents. In fact, until last week, no Indians were under contract beyond 2012.
The Indians recently agreed to a two-year extension with Asdrubal Cabrera that keeps the shortstop in place through 2014. I like this deal for the team, since it buys out a free agent season — Cabrera's age-28 campaign — for a reasonable price without exposing the club to unnecessary long-term risk.
The Indians obtained the rights to a free agent season of Carlos Santana's by committing to the switch-hitter for the next five seasons. They don't appear to have obtained a substantial discount for his arbitration seasons (Joe Mauer and Brian McCann earned comparable amounts for that five-year chunk of their careers), but it made sense for the Indians to extend their control over Santana.
The Indians' current position seems relatively strong. With no bad contracts on the books and many young players ready to contribute in the Major Leagues, they could break out before long. Yet their most recent offseason didn't feature franchise-altering trades or free agent signings. Instead, Antonetti added supplementary players during another relatively quiet winter.
Photo courtesy of US Presswire.