Grady Sizemore will remain with the Indians in 2012, announced the team today.  Sizemore receives a $5MM base salary and $4MM in incentives on a one-year deal, tweets SI's Jon Heyman.  He has a chance to reach the value of the option the Indians turned down, with the incentives kicking in at 450 plate appearances according to MLB.com's Jordan Bastian.  Sizemore would get $500K for winning the Comeback Player of the Year award, tweets Jon Paul Morosi of FOX Sports.  A corresponding 40-man roster move is a few days away, according to the team.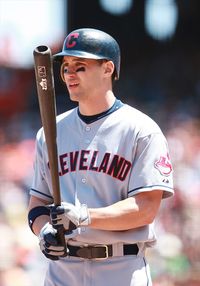 The Indians chose a $500K buyout over Sizemore's $9MM option in October, and with at least eight teams showing interest it seemed that he'd play elsewhere for the first time in his big league career.  Sizemore, 29, is a risky player given his health issues the last three years.  From 2005-08, he was one of the game's best players for the Tribe, garnering MVP votes in each season.
Since 2009 Sizemore has missed time due to injuries to his elbow, abdominal wall, and left knee, the last of which required microfracture surgery in June of 2010.  He had surgery for a sports hernia this year, and a right knee injury culminated in an October arthroscopy.  He's expected to be ready for Spring Training.  Sizemore's agent, Joe Urbon of CAA Sports, says his client will continue to play center field for the Indians.    
Sizemore ranked 26th on my top 50 free agents list.  With six of the 50 having signed so far, five of the 5,020 entrants in MLBTR's free agent prediction contest have four correct picks. 
Ken Rosenthal of FOX Sports first reported Sizemore's likely return to the Indians on Friday, with SI's Jon Heyman declaring it official this morning.
Photo courtesy of Icon SMI.