We have our first trade of the 2011-12 offseason!  The Indians acquired Derek Lowe from the Braves, tweets John Kreger.  The Braves will pay all but $5MM of Lowe's $15MM salary, tweets ESPN's Buster Olney.  Olney says the Braves will receive 23-year-old High-A lefty reliever Chris Jones in return for Lowe.  Baseball Prospectus' Kevin Goldstein provides a quick scouting report.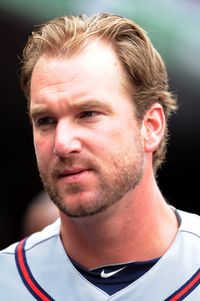 Lowe, 38, posted a 5.05 ERA, 6.6 K/9, 3.4 BB/9, 0.67 HR/9, and 59% groundball rate in 187 innings this year for Atlanta.  Lowe's Braves career ended on a sour note, as his 8.75 September ERA contributed to their collapse.  Still, his groundball rate ranked second in all of baseball.  Lowe signed a four-year, $60MM deal with the Braves in January of 2009.  
With Lowe, Justin Masterson, and Fausto Carmona, the Indians' rotation now has three of MLB's top seven in 2011 groundball rate.  Ubaldo Jimenez and Josh Tomlin are also penciled in, with Carlos Carrasco down for Tommy John surgery.
For the Braves, the benefit is $5MM in much-needed salary relief for a pitcher otherwise projected for middle relief on their 2012 club.  The Braves and Indians last matched up on a trade in July of 2006, when the Tribe sent reliever Bob Wickman to Atlanta for Max Ramirez.
Photo courtesy of Icon SMI.