The Rangers outbid the competition for Yu Darvish in the hopes that the Japanese right-hander can help put them over the top in 2012.
Major League Signings
Notable Minor League Signings
Trades and Claims
Extensions
Notable Losses
Andres Blanco, Matt Treanor, Endy Chavez, C.J. Wilson, Darren Oliver, Mike Gonzalez, Dave Bush, Darren O'Day, Brandon Webb, Teagarden, Tracy, Kelly.
Draft Picks Gained or Lost
Obtained 78th overall selection from Angels for Wilson. Also obtain supplementary first round pick.
Give the Rangers credit: you don't lose two consecutive World Series without fielding some pretty talented teams. They prepared for another run at their first championship by moving their closer to the rotation and winning the rights to one of the most highly coveted pitchers available.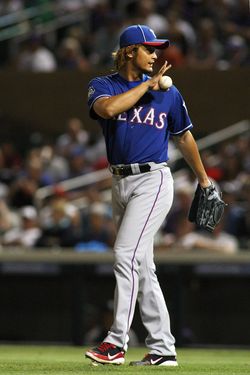 Yu Darvish (pictured) required a $107MM commitment, so he'll face intense scrutiny whether he succeeds or not. If he comes close to replicating the stats he put up in Japan, Rangers fans won't have much reason to miss new Angels starter C.J. Wilson. There are no guarantees of excellence, or even of mediocrity from Darvish, but this was a gamble worth taking for a large market team that had determined he could succeed in the Major Leagues.
Neftali Feliz will join Darvish, Matt Harrison, Derek Holland and Colby Lewis in a rotation that no longer includes Wilson or Alexi Ogando. The decision to pass on Wilson was understandable, but he'll now be an asset for their biggest rival. Ogando, who faded late in his debut season as a starter, will provide newly extended manager Ron Washington with depth.
Feliz should be more valuable to the Rangers as a starter, since he'll pitch more innings in that role. He started throughout his minor league career, so this isn't completely new to him. And if any team can convert relievers to starters it's the Rangers, who have transitioned Wilson and Ogando to the rotation under the watchful eye of pitching coach Mike Maddux.
Because the Rangers are six deep in the rotation, they didn't have room for Roy Oswalt. At the very least, Oswalt's interest in joining the Rangers shows that top-tier free agents view Texas as an appealing place to play. Several needs could emerge for the Rangers within the next 12 months, and their new TV deal should ensure that they have money to spend. They'll be well-positioned to sign players who prefer to join a contender.
The Rangers committed $14.5MM to Joe Nathan, and it seems like an awful lot for a 37-year-old who's one year removed for Tommy John surgery. However, Nathan struck out three times as many hitters as he walked last year and his fastball still checks in at 92.3 mph.
The Rangers signed Joe Beimel and former Brewers teammates Mitch Stetter and Sean Green to minor league deals, but left-handed relief remains a weakness for this team. Michael Kirkman and Robbie Ross haven't proven themselves at the Major League level, yet they'll be counted on to replace Darren Oliver and Mike Gonzalez. Despite Gonzalez's disappointing 2011 performance with the Rangers, he might be worth another shot if the team's young arms falter.
The Rangers could have been a fit for Prince Fielder, but they had the discipline to pass when his asking price soared to uncomfortable heights. As intimidating as Fielder would have been in Texas, Mitch Moreland should do just fine while earning 1/50th of Fielder's salary. Mike Napoli or Michael Young can play first against some tough left-handers when possible, reducing Moreland's exposure to same-side pitchers.
The Rangers locked up Nelson Cruz and Elvis Andrus to extensions that could save the club money in future years. Capping costs was the main motivation for the extensions, as the Rangers didn't obtain control of free agent years on either contract. Tim Dierkes questioned whether the Andrus extension was necessary and I agree that the potential savings probably don't justify the risk. The upside is limited for the Rangers on both deals, yet they took on most of the risk with these two extensions. The Derek Holland deal strikes me as an excellent fit for both sides, however. Holland obtains security, while the Rangers extend their control over the left-hander with two club options.
The Rangers tabled extension talks with Josh Hamilton after the outfielder had an alcohol-related relapse. Hamilton, a free agent next winter, may be playing his final season with the Rangers. Napoli, another prospective free agent, also enters the 2012 season without an extension despite his breakout 2011 season.
The team agreed to terms with Dominican outfield prospect Jairo Beras, but MLB and competing executives believe he is 16 and therefore too young to sign. It makes sense for the club to spend now (when doing so is permitted), before the new CBA's spending restrictions take effect.
The Rangers have increased their win total in each of the past four seasons, winning the past two division titles. The AL West figures to be considerably more competitive now that the Angels have added Wilson and Albert Pujols, so it's by no means a given that the Rangers will reach the playoffs this year. But GM Jon Daniels has assembled a well-balanced roster with enough pieces for another attempt at their elusive first championship. The Rangers appear to be one of the best teams in the game.
Photo courtesy of US Presswire.