Nelson Cruz passed his physical, and his two-year deal with the Rangers is worth $16MM plus incentives, MLBTR has learned.  The ACES client had an arbitration hearing scheduled for next week.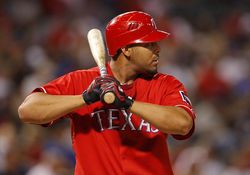 Cruz, 31, hit .263/.312/.509 with 29 home runs in 513 plate appearances last year, adding eight more homers in 70 postseason PAs.  The right fielder's arbitration case seemingly had some bearing on those of Adam Jones and Alex Gordon, who remain unsigned.
Cruz will be eligible for free agency upon the completion of his two-year deal.  His .540 slugging percentage since 2008 ranks sixth in MLB among those with at least 1500 plate appearances.  Health has been the only obstacle for the late-blooming Cruz, who has averaged 120 regular season games over the past three years.
The Rangers extended shortstop Elvis Andrus yesterday, so Mike Napoli is their only remaining unsigned  arbitration eligible player.  Napoli's hearing is scheduled for Wednesday of next week, with a $3.2MM salary spread.
Photo courtesy of Icon SMI.