The Twins are off to a 17-32 start, which gives them a projected 0.0% chance of claiming a postseason berth this year, according to Baseball Prospectus' playoff odds report. Expect general manager Terry Ryan to field his share of calls this summer, when buyers survey the rosters of second division teams for late-season depth.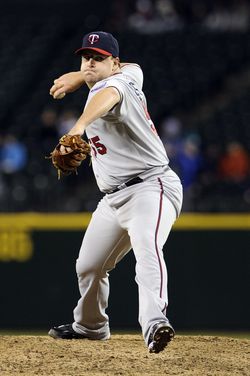 Matt Capps figures to draw interest, as contending teams are always looking for relief help. Yet he isn't your typical closer. Just three MLB relievers with as many innings as Capps (19) have a lower strikeout rate so far this year: Alex Burnett, Rafael Dolis and Jon Rauch. Capps strikes out just 4.7 batters per nine innings and doesn't induce a noteworthy number of ground balls or swings and misses. It'll be enough to make some general managers wonder how long he can keep his ERA below 4.00.
But the Twins can point to Capps' many positives in summer trade talks. The 28-year-old limits walks (1.4 BB/9) and has averaged 68 appearances per year since his first full season in 2006. He throws hard — his average fastball checks in at 92.5 mph — and owns a relatively low ERA (3.79) to go along with lots of saves (10 this year, 124 in the Major Leagues). He's earning $4.5MM in 2012, which makes him affordable for most buyers. 
Capps was a ranked free agent last offseason, meaning the Twins had a chance at obtaining draft pick compensation for losing the right-hander. But under baseball's new collective bargaining agreement, teams must be prepared to offer players a salary in the $12-13MM range if they expect compensatory picks. There's no way Capps is worth that kind of money, and his $6MM club option ($250K buyout) is hardly team friendly either. In essence, the Twins must make a trade if they intend to obtain an asset for the future.
When the Twins acquired Capps midway through the 2010 season they gave up a promising young catching prospect who has since become an MLB regular: Wilson Ramos. It'd be a coup for Ryan if he can convert Capps into an equally promising MLB-ready prospect. But Capps' trade value isn't as high as it was two summers ago, when he induced more strikeouts and had a year of team control remaining. This time the Twins seem more likely to obtain secondary prospects if they trade the closer.
Photo courtesy of US Presswire.