We won't know the results of Carlos Quentin's extension with the Padres until after the 2015 season, when the contract expires. But the deal's consequences are already apparent for the 29 other MLB teams: there's one less bat on the trade market, one less player headed for free agency, and one more clue that teams are hesitant to surrender top prospects for short-term acquisitions.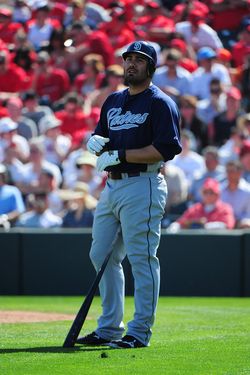 The trade market, light on power bats to begin with, will be affected. There's now one less option out there for GMs seeking right-handed power, so the few teams that do have a power-hitting trade candidate might now enjoy additional leverage in trade discussions. The Cubs, for example, might have more success peddling Alfonso Soriano to contenders (though they'll presumably absorb the majority of his contract if they complete a trade). Josh Willingham of the Twins, who's signed to a reasonable three-year, $21MM contract, could also draw additional interest following the Padres' deal with Quentin.
The Padres and Quentin agreed to a three-year, $30MM extension that values the right fielder at the level of Michael Cuddyer (three years, $31.5MM) and Edwin Encarnacion (three years, $29MM). Players such as Nick Swisher, Melky Cabrera and Cody Ross could benefit this offseason when they hit free agency. Quentin, Encarnacion and Andre Ethier are now unavailable after signing extensions, so the few remaining free agent bats can expect to be pursued aggressively this coming offseason. It sure beats hitting free agency in a market saturated with star-caliber players.
Quentin's extension provides evidence for a widely-held suspicion about the midseason trade market. Teams have seemed hesitant to trade top prospects for players on the brink of free agency now that baseball's collective bargaining agreement prevents clubs from obtaining draft pick compensation for players acquired midway through the final year of a contract. The recent deal between the Padres and the CAA Sports client appears to be further evidence that teams are unwilling to trade their best prospects for players nearing free agency.
Instead of trading Quentin for a middling prospect or two and, perhaps, some salary relief, general manager Josh Byrnes offered the San Diego native a contract that buys out three free agent years. While some will criticize the decision by a small-market team to commit a significant percentage of payroll to a defensively-limited player with a history of injury issues, there's no doubt Quentin would have been of interest to contending teams this summer. The Indians, Pirates and Dodgers are among the clubs that could use an offensive upgrade in the outfield. But teams around the league didn't tempt Padres executives with overwhelming trade offers. Instead, those teams will hold onto their prospects or trade them for players who will remain under team control beyond 2012. It's possible that Quentin and other players headed for free agency no longer seem valuable enough to justify parting with highly-regarded prospects.
I wonder if the Padres would have made Quentin a qualifying offer following the season had he stayed in San Diego without signing a long-term deal (teams must extend qualifying offers to free agents to be eligible to obtain draft pick compensation). The qualifying offers are expected to fall in the $12.5MM range, and the Padres apparently value Quentin as a $10MM player on a multiyear deal, so $12.5MM for one year doesn't sound unreasonable given the possibility of draft pick compensation. If nothing else, additional picks provide teams with a larger budget and more flexibility for the draft, which remains the most efficient way for organizations to obtain impact talent. 
Photo courtesy of US Presswire.