Rockies GM Dan O'Dowd continued a busy offseason today by making his biggest move yet. The Rockies have agreed to sign Michael Cuddyer to a three-year, $31.5MM deal.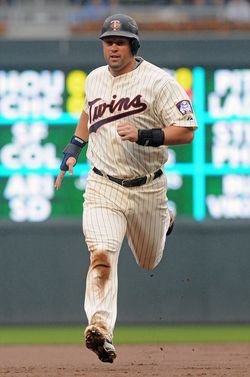 Cuddyer, 32, hit 20 homers and posted a .284/.346/.459 line in 584 plate appearances for the Twins this past season. After 11 seasons in Minnesota, the Excel Sports Management client has a career line of .272/.343/.451. Cuddyer spent considerable time at three positions in 2011: right field, first base and second base. He has also played third base and left field at the Major League level, so Rockies manager Jim Tracy will have lots of places to pencil his new player into the lineup. 
This isn't the beginning of a Marlins or Angels-like free agent shopping spree for O'Dowd. The Rockies cleared payroll for Cuddyer earlier this month, sending Huston Street and Ian Stewart to National League rivals in trades.
One suitor for Carlos Beltran likely disappears now that the Rockies have Cuddyer. As Troy Renck of the Denver Post points out, Seth Smith's role becomes uncertain with the addition of Cuddyer. He would become a bench bat or a trade candidate if the Rockies use Cuddyer in the outfield.
The Twins, who signed Josh Willingham for $21MM over three years this week, will obtain two top draft picks for losing Cuddyer, since they offered the Type A free agent arbitration. However, it will not cost the Rockies a draft pick to sign Cuddyer under modified rules for ranked free agents. 
Cuddyer ranked 11th on MLBTR's list of the offseason's top free agents. When Tim Dierkes looked at Cuddyer's free agent stock in September, he anticipated that his market would be in the three-year, $30MM range.
Mark Buehrle, Jonathan Papelbon, Albert Pujols, Jose Reyes and C.J. Wilson are the only free agents to sign for more guaranteed money this offseason. This is first time O'Dowd has lured a major free agent to Colorado since 2000, as Renck notes and our Transaction Tracker confirms (minimum $10MM deal).
Jon Heyman of CBSSports.com first reported the agreement and the terms (Twitter links). Renck reported growing momentum toward a deal Thursday night. Photo courtesy Icon SMI.